Photo Gallery
"Mind Heart Vision"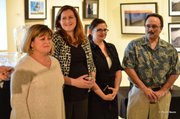 Click Photo for Flash
At ArtSpace Herndon on Friday, April 12, there was an artists' reception for the current exhibit "Mind, Heart, Vision." This exhibit shows 86 pieces of art made by Herndon High School senior students enrolled in school art classes. This is the third year that the ArtSpace has hosted this show.
"It is a really stimulating show," said ArtSpace Director Dale McGrath. "We have art of many mediums on display including pop art, photography, sculpture and stop motion animation."
More than 40 students have their artwork on display at the exhibit. Herndon High School art teachers Kathleen Adams, Shannon Mills, Wayne Zink and Tammy Morin were present at the event. Both Zink and Morin were founding members of the annual "Mind Heart Vision" exhibit.
"Every senior is given an opportunity to submit their work," said Morin. "From there we sent the entry work to the jurors. We then take their selections and have them framed and mated. Students have to mat their own work; they actually prepare the artwork for presentation so the gallery can hang it."
Wray Sinclair has several photos taken at Yellowstone National Park on display. "I started photography in middle school … I started getting more serious about photography in the past two years and I have taken classes in high school with Mr. Zink."
Herndon High School students Maggie Middleton and Wray Sinclair expressed appreciation for the assistance and guidance offered by the art teachers at Herndon High School. "I think we need to thank the teachers who helped these young artists," said Herndon Foundation for the Cultural Arts President J. Harlon Reece.
The exhibit will be on display at ArtSpace Herndon until Sunday, April 21.