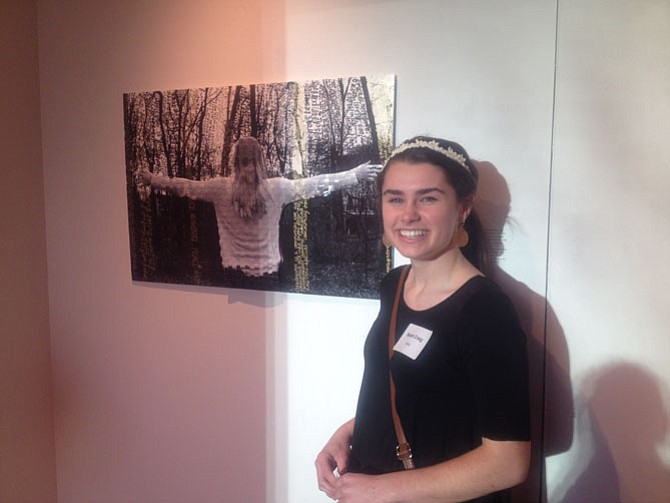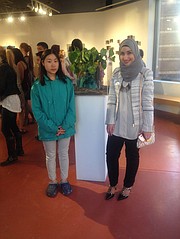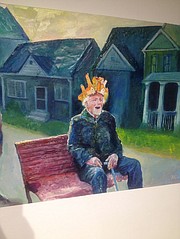 A reception was held the evening of March 18 for the Emerging Visions program, on display at the Greater Reston Arts Center (GRACE) at Reston Town Center. The exhibit is sponsored by Hughes Group Architects, and shows the work of local high school artists inspired by Reston founder Robert E. Simon's vision for his town and what it means to live in an open community. Students, parents and teachers from Herndon, Oakton, and South Lakes High School (SLHS) attended the reception. "It is a good exhibit, it is very impressive," said Alex Martschenko, a resident of Oakton.
"The whole thing is a great opportunity for the kids, and they are very supportive of each other," said Adam Hatchl, an art teacher at Oakton High School. Simon died in September at the age 101. His 102nd birthday would have been April 10. Working with their teachers and GRACE's staff, the students created work in response to their engagement with the Center's winter exhibition, LineWorks: Drawing Redefined. Executive director and curator of Exhibitions at the Greater Reston Arts Center (GRACE) Holly McCullough and Reston Town Center Association executive director Robert Goudie welcomed visitors.
"I am so impressed with the quality of art we have here. I am pleased to have worked with all the students who made their way into the exhibition," said John Adams, director of Education at GRACE. About 374 people attended the evening reception on Friday night. Parents expressed their gratitude for what the art teachers and GRACE staff have done for their children.Thirty-seven artists are in the show. "I love being part of the kids art exploration," said SLHS art teacher Marco Rando. Also attending the reception was SLHS principal Kimberly Retzler.
"Often the students ambitious projects required support and encouragement from family members and friends to reach completion. To all of you who helped to foster their artistic development, supported them in overcoming logistical challenges, and encouraged their artistic gifts, on behalf of the Greater Reston Arts Center staff and board, we thank you," said Adams.
Herndon High School students who have pieces in the exhibit include Beverly Hernandez, Erin Mills and Jules Yerovi. Yerovi's piece on display at GRACE is a flip book called "Community Through My Eyes." Mills brought several photos in a piece called "Cyber Barrier." In an artist's comment, Mills says with the Internet and cyber world, people can become disconnected from the real world.
Also attending was Razan Elbaba, an Oakton HS senior who won one of only eight Gold Medal art portfolio awards and a $10,000 scholarship. National medalists will be celebrated at an awards ceremony at Carnegie Hall in New York City in June. Select national award winning work will be included in an exhibition in New York, and a traveling exhibition over the coming year. Angela He of Oakton High School, won a Gold Medal for digital art. Her art piece "Unity Across Time" has an image of a Reston's founder, Robert "Bob" Simon.