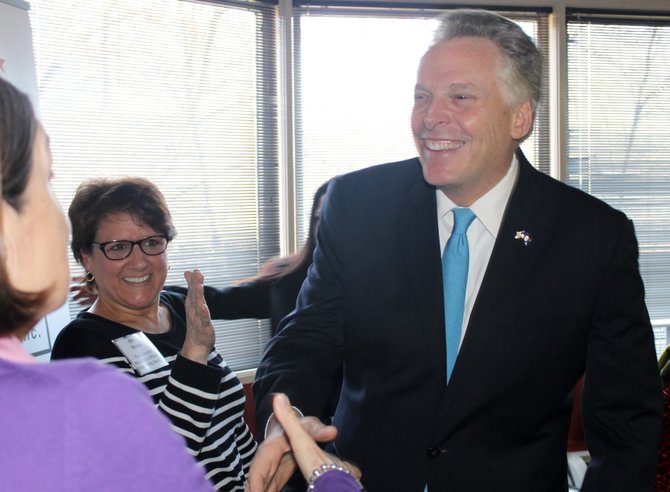 Just a few days before the Virginia General Assembly convened in a special session in Richmond to decide on the budget and the possibility of Medicaid expansion, Gov. Terry McAuliffe met with patients of Alexandria Neighborhood Health Services in Arlington, as they shared with him how Medicaid expansion would change their lives for the better.
"The idea that we could not cover the 400,000 Virginians and provide quality care to me is morally unacceptable," McAuliffe said. "I take this very seriously."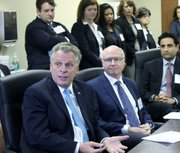 At the roundtable, McAuliffe said he hopes to get the special session of the General Assembly over quickly. The governor announced Monday that he has proposed a two-year pilot program for Medicaid that has been approved by the federal government.
McAuliffe told patients and administrators of Alexandria Neighborhood Health Services, Inc. that Medicaid expansion will happen this year.
Patients of the Alexandria clinic feel that Medicaid expansion cannot come soon enough.
Ted Woynicz, a veteran with PTSD, told McAuliffe that due to his health problems, he is unable to work. He also cannot afford the treatment that would make him better.
Because they cannot afford primary care, many Virginians such as Woynicz use the emergency room for health care. Now, Woynicz is afraid to go due to the high costs.
"It's a really scary thing when you're afraid now even to take yourself to the emergency room," Woynicz said.
According to McAuliffe, Medicaid expansion will allow more people to receive primary care and prevent people from going to the emergency room as much.
Woynicz said he is also unable to make it to the University of Virginia Medical center to receive specialized treatment.
"I really put off what could be an oncological issue for about a year," Woynicz said.

Lori Piper worked as a business executive until five years ago when she was diagnosed with several auto-immune diseases. After she went through chemotherapy and her conditioned worsened, she had to quit her job.
"Chemotherapy made me much worse. I lost my job and I was not able to work after that. I became homeless and my mother died while I was homeless," Piper said.
Piper needs to see an oncologist at UVA, but can't afford to go.
"There are days when I don't have enough money to eat," she said. "ANSHI clinic is my only care. Thank God for them, or I wouldn't have any medical care."
McAuliffe said that if Medicaid expansion doesn't go through, medical centers at the University of Virginia and Virginia Commonwealth University will face cutbacks.
"That's why I'm so passionate about this topic," McAuliffe said.
Virginia House Republicans are opposed to Medicaid expansion. At the discussion on Thursday, McAuliffe said he wishes Republicans would sit down and listen to patients' stories.
"Every day we wait, it's another $5.2 million that we are giving up," McAuliffe said.
McAuliffe has spent the last two weeks before the reconvening of the General Assembly to tour Virginia and talk to patients who would be impacted by Medicaid expansion.
"Hearing your stories brings, I think, tears to everyone's eyes in this room," McAuliffe said.
Attendees of the roundtable discussion also included some members of the Virginia General Assembly, including Sen. George Barker (D-39) and Delegates Bob Brink (D-48) and Charniele Herring (D-46).
"I'm lucky. I have health insurance. But it shouldn't be a matter of luck. It should be a matter of our state's priorities," said Herring.