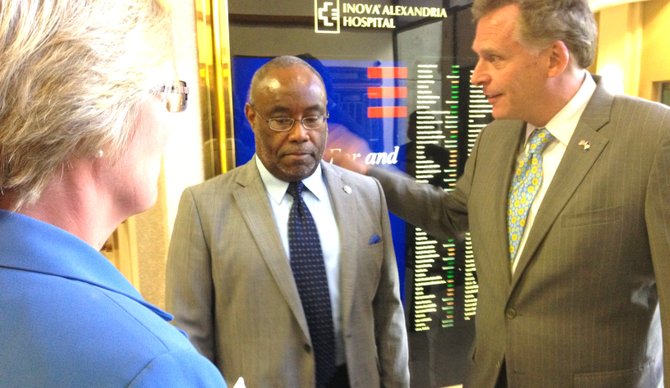 Democratic candidate for governor Terry McAuliffe found himself in the emergency room this week, but it wasn't because of a medical crisis. The former chairman of the Democratic National Committee was touring Alexandria Inova Hospital to launch his healthcare platform in his hotly contested race for governor against Republican Attorney General Ken Cuccinelli — who sued the federal government as a protest against Affordable Care Act.
"This is a win-win," McAuliffe stated, "These types of commonsense policies, which have been supported by Republican and Democratic governors alike, are what the Commonwealth needs to grow our economy and create more opportunities for Virginians now and in future generations."
McAuliffe calls his platform "A Healthier, Stronger Virginia," a plan to expand Medicaid and improving community care through expanded mental health services, veteran's health services and disability care. Outgoing Republican Gov. Bob McDonnell is opposed to Medicaid expansion, although he opened the door to the possibility as part of a vote-swapping operation with Senate Democrats to secure a landmark transportation package. Now a commission is investigating whether or not the commonwealth can afford expanding Medicaid to 400,000 uninsured Virginians, although the panel is not expected to make a recommendation until after the election. Meanwhile Republicans say expansion could bankrupt Virginia 10 or 20 years from now if the federal government fails to pay for 90 percent of the program.
"I think that's just fluff on the part of the Republicans," said Alexandria Mayor Bill Euille, who welcomed McAulifffe to the hospital Monday afternoon. "Four hundred thousand folks in Virginia are going to be added healthcare rolls and receive the benefits, and 33,000 jobs are going to be created."
THE POLITICS of healthcare have become one of the hottest issues in the campaign, and one of the starkest points of distinction between the candidates. Cuccinelli crafted a national reputation for himself by launching a lawsuits against the Affordable Care Act. Now he's ready to take the issue to the voters, gambling that opposition to President Barack Obama's healthcare reform will help secure a victory in November.
"When it comes to healthcare reform generally, Virginians are rightfully concerned about the fact that Terry McAuliffe not only supported Obamacare, he even favored the public option," said Anna Nix, press secretary for Cuccinelli. "A growing chorus of Virginia businesses are opposed to the law because of its job crushing mandates, costs and regulations."
As it's currently written, the Affordable Care Act says the federal government will pay for 100 percent of the Medicaid expansion for the first three years. After that, Uncle Sam will pick up the tab for 90 percent of the program. Republicans say they fear what will happen down the line, perhaps 10 or 20 years from now. If the federal government fails to pay for most of the program, opponents say, Virginia taxpayers could be stuck with a bill that could bankrupt the state.
"Let's say hypothetically down the road, the federal government totally reneges on their commitment," said McAuliffe. "That day, as governor if it happens under my term, I call the General Assembly back in and say we're ending our part of the program too because they didn't honor their deal."
EXPANSION OF MEDICAID was one of the key provisions of the Affordable Care Act when it was originally signed by Obama in 2009. But the United States Supreme Court ruled that each state would have to decide whether or not to expand the program, which offers health insurance to the poor and disabled. Earlier this year, a commission was appointed to determine whether or not Virginia meets a set of guidelines created by the General Assembly. That means the next governor will take office during a critical moment, a time when the expansion could move forward or grind to a halt.
"Medicaid is the fastest growing and most out-of-control part of the Virginia general fund budget, and it's filled with waste, fraud and abuse," said Nix. "It is not a good course to expand such a tenuous system, particularly when it would require tax increases under virtually all circumstances."
Democrats argue that expanding Medicaid would not only offer healthcare to the uninsured, but it would also be good for job growth and economic prosperity. One of the arguments they make in favor of expanding the program is that Virginia taxpayers will be paying into the system regardless of whether or not the state participates. McAuliffe says failure to participate would be money down the drain.
"Twenty nine states have already agreed to accept it. Very conservative Republican governors in Florida and Arizona and Michigan and Ohio have agreed to accept it. Ken Cuccinelli is out of the mainstream of Virginia."