How do you get a cafeteria full of kids wildly engrossed in and energized about some pretty complex scientific subject matters? You call in Albert Einstein to explain and demonstrate - that's how. OK. Not the Albert Einstein, of course. But Marc Spiegel's performance of Einstein Alive! did the trick.
The fourth, fifth and sixth graders of Oak Hill Elementary School were treated to an hour long program by Spiegel in his Albert Einstein character on Thursday, March 20. It only took the first few minutes of 'Mr. Einstein's' presentation before students, teachers, staff and visitors alike all forgot they weren't interacting with the real creator of the famous "E=MC2" formula.
Oak Hill ES is an X-STEM school, registered as such with the USA Science and Engineering Festival organization. That means that the school creates opportunities to promote Science, Technology, Engineering and Mathematics (STEM) in the school and the community, especially via an X-STEM Student Ambassador Team. The Oak Hill X-STEM Team is gearing up to attend the X-STEM Extreme Symposium on April 24 at the Walter E. Washington Convention Center in D.C.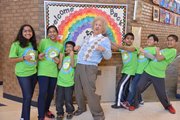 THE ALL-DAY EVENT, presented by Northrop Grumman Foundation and MedImmune, features interactive presentations and workshops by top STEM authorities and industry leaders for children from elementary through high school. Oak Hill's team will then be exhibiting their project on renewable energy sources with the help of other Oak Hill students at the free 3rd Science and Engineering Festival and Expo at the same location on April 26 and 27.
At the Oak Hill Einstein assembly, X-STEM Team Ambassador Pranava Nidumolu was the group's spokesperson, who eloquently introduced "Mr. Einstein" after the proceedings were called to order by Principal Amy Goodloe. As fifth grader Nidumolu noted, Spiegel has performed his Einstein Alive! show to schoolchildren across the globe, at the Kennedy Center, the Smithsonian Institute, and the Library of Congress to name just a few of the prestigious venues where he appeared in his Einstein persona. Spiegel is one of some 150 experts and scientific role models – called the Nifty Fifty (x3) who, under the auspices of the USA Science and Engineering Festival, are speaking at schools throughout the greater Washington D.C. area during the 2013-2014 school year, promoting STEM to a new generation.
Today, in one minute Spiegel had the crowd in giggles with his songs – "Physics with a 'PH' not an 'F'" and "Relative, Relative, Relative" – and his antics with a rolling platform with which he demonstrated many of the principles of energy, matter, time, space and relativity. The next moment, hands were being raised high with answers to his questions, and for asking questions of their own. At least to the lay person, it certainly seemed as if Spiegel was able to respond to those questions with the confidence and clarity of the real Einstein. Just as important, it was evident that the Oak Hill students knew a lot about the subject matter themselves. Impressive ideas and thought-provoking questions came from dozens of the youngsters.
Throughout his presentation, Spiegel encouraged the students to never stop exploring, always be excited, and "never let confusion or other people stop you. On the other side of confusion lies the truth," he declared. He also reminded the youngsters that success requires perseverance and hard work, and the ability to work through, rather than succumb to discouragement. "Einstein" told his gathering that when he was a student he often struggled. "Even though I was to be called a genius in my life, when I was in school I hated tests," said "Einstein," "and I failed the college entrance exam the first time I took it," he admitted. "But you just try again and keep going." Spiegel ended the event by telling the audience that the real crisis in America today was "not enough people going into the sciences. That's why I am here today."
AFTER THE ASSEMBLY, Spiegel remained in character. "Einstein" was surrounded by students in the lobby area with questions about space, time, matter, energy and more. The "famous scientist" answered their questions with enthusiasm and a lively discussion ensued, before "Mr. Einstein" posed for pictures and then joined some of his student fans for lunch.
Oak Hill Elementary encourages the community at large to join in the fun and learning by visiting their X-STEM Team and exploring all of the exhibits at the USA Science and Engineering Festival and Expo next month. "Einstein," well-represented by Marc Spiegel, will be on hand at the event. As he put it during his presentation, to be relative requires connection and a frame of reference. "You have to participate. You have to encourage your curiosity and imagination."
More information about the USA Science and Engineering Festival and Expo, how to more fully explore STEM topics and careers, and how to register as a STEM school is available on www.usasciencefestival.org.