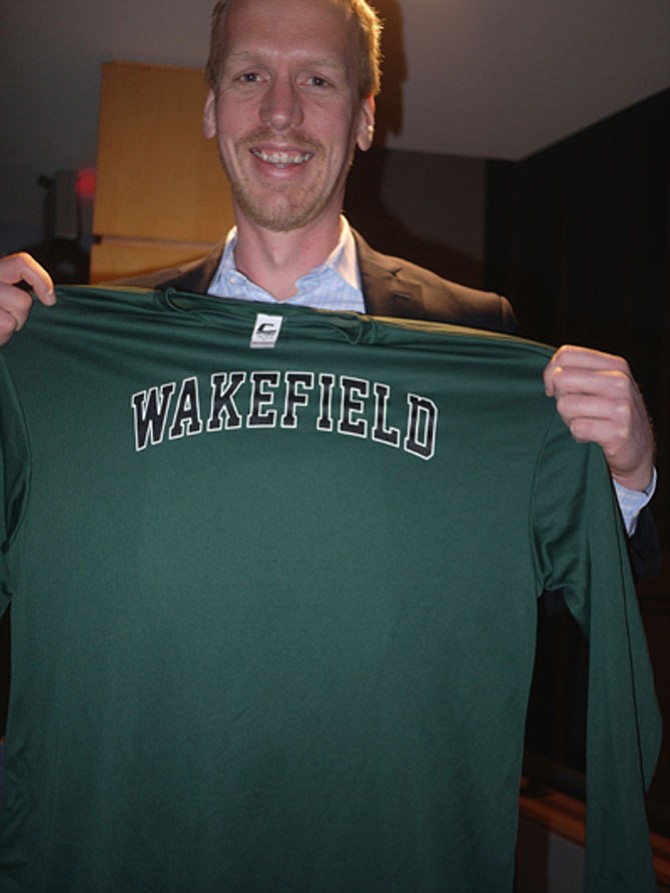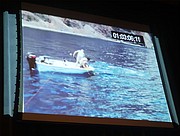 He wasn't supposed to fall on a shark, but when you are trying to put a tracking device on a Great White shark in a small boat in the middle of the sea, you have to be prepared for things to go a little awry. Eric Berkenpas, National Geographic engineer, discussed National Geographic's unique imaging tools and equipment to help better understand the physical world– ranging from the mysteries of undersea life to volcanoes and caves, when he addressed high school students on March 9.
Berkenpas visited Wakefield High School as a guest lecturer, providing insights about his career and work as part USA Science & Engineering Festival's Nifty Fifty Program which sends more than 200 top scientists and engineers into schools around the country in advance of the festival to ignite students' passion for science and engineering.
Taking place April 7-8 in D.C., the Festival's Expo, sponsored by Founding and Presenting Host Lockheed Martin, is a free event that allows youths and adults to participate in more than 3,000 hands-on activities and see live performances by science celebrities and experts. The festival will kick off on April 5 with the X-STEM Extreme STEM Symposium — presented by PwC and NCR — a "TED-style" event for youth featuring interactive presentations and workshops by STEM visionaries.
At Wakefield, Berkenpas said he and his colleagues created a critter cam which you could "tag" an animal with to see what he was up to. They used an industrial strength suction cup to put a tag on a whale, using a pole to attach it to the whale in a scene reminiscent of Ahab's adventures in "Moby Dick."

"You can do with sharks too; you tag their dorsal fin," Berkenpas said. "But you have to do it in the split second when it closes its eyes right before it eats. So you bait it, then follow it while it chases the bait, then get literally on top of it and tag." The problem was, this time, the shark grabbed the bait, which was tied to the boat, so hard that the boat jerked and the scientist who was perched on the edge of the boat lost his balance and tumbled … onto ... the shark. Berkenpas told the audience they could google it because the whole thing was caught on camera; it's on YouTube, under "falling into a shark." Since the shark was about 2-3 times bigger than the boat, there were some heart stopping moments for the scientists. "But," Berkenpas said, "Next time we asked for a bigger boat."
Berkenpas talked about trying to take pictures of animals in the deepest area of the ocean, like the Mariana Trench. He told students, "If you are just walking around, you already have 15 pounds of pressure on you just from the atmosphere. But when you are down that deep in the sea, you have tremendous pressure. Finding a camera that could descend that deep and withstand that pressure was not easy. But it was worth it because understanding the sea is crucial. Three billion people depend on the sea for food."
Does he ever lose a drop camera or break it? Sure, Berkenpas replied. "But a camera you drop into the ocean to record images only costs about $20,000, whereas a robot costs millions. So better to use a camera that might get lost."
In response to a student's question, he said his job really isn't scary. Sometimes the scariest is the drive to and from the site. "The fun thing about my job is that I can both test and deploy, design and test. I can do it all. Most scientists or engineers can do one but not all three on the same project."
How did he get interested in being an engineer? "When I was young I had an uncle who worked for National Cash Register," he said, "and that was the precursor to IBM, so they had a lot of electronics and mechanical moving parts. My uncle had a whole garage of the stuff, and when he moved out to California he gave it to me, and I would put it all together and call him and ask which part went with which, and he would tell me. I got a master's degree in acoustics, and then worked for a defense contractor, and then my boss got this request to develop the critter cam and I came along to National Geographic."
Founded by serial entrepreneur Larry Bock and Lockheed Martin executives to address the shortage in science and technical talent, the USA Science & Engineering Festival is the Super Bowl of STEM, and was developed to increase public awareness of the importance of science and to encourage youth to pursue careers in science and engineering by celebrating science the way people celebrate Hollywood celebrities, professional athletes and pop stars.
To support this effort, the Nifty Fifty are science stars chosen for their differing fields, talents, divergent backgrounds and ages and include inventors, policy makers, actors, educators, researchers, explorers, video game developers, alien hunters, astronauts, doctors, and more.
The Nifty Fifty events are taking place throughout the region through the festival. More than 350,000 people are expected to attend the festival, the largest of its kind in the U.S. For more information, see https://usasciencefestival.org/.