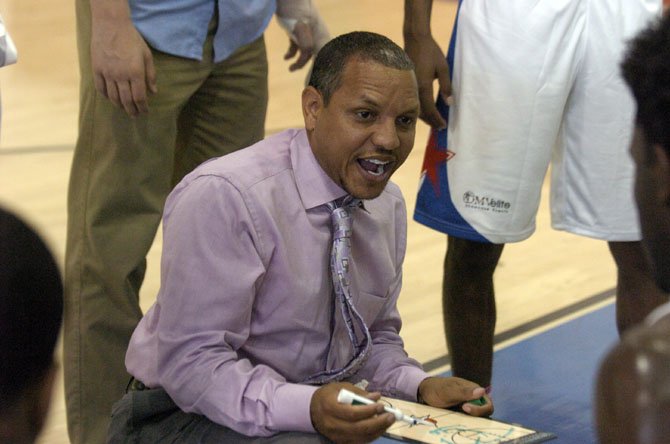 Re'Quan Hopson figured his prep basketball career had ended when Wakefield lost to Henrico on March 8 in the 5A state semifinals. As it turned out, Hopson would receive one more chance to step on the hardwood as a high school hoopster and, this time, he came out a winner.
Hopson scored 11 points, grabbed eight rebounds, and helped the West all-stars beat the East all-stars 126-115 during the 41st Annual Capital Classic on April 26 at T.C. Williams High School.
Hopson was selected to play for a West team composed of athletes from northern Virginia schools. Facing a talented East squad from schools primarily located in Washington, D.C., the West team jumped out to an early 10-2 lead, including a three-point play by Hopson, and never trailed.
"It was amazing because after we lost to Henrico, I thought it was over," Hopson said. "Just to get that letter from the Capital Classic, it was great to play one more time in high school. ... I was a little stunned because at first, when they named the opposing team there were nine [Division I] players, so it was a little overwhelming. But once you got into it and the ball went up, we're all the same."
The West all-stars played an unselfish brand of basketball, with eight of nine players finishing in double figures. They scored 46 points in the first quarter and led 78-53 at halftime.
"We told them before the game, just everybody share the ball with each other because everybody here can play," said W.T. Woodson head coach Doug Craig, who coached the West all-stars. "If we share the ball, everybody will score, everybody will look good and we'll get a 'W.'"
The East team rallied in the second half to make the game competitive, but the West led by at least eight for the remainder of the contest.
Herndon's Brandon Alston led the West all-stars with 25 points and earned game MVP honors. Bishop Ireton's Patrick Moseh had 18 points and 12 rebounds, Lake Braddock's Will Gregorits had 13 points and 12 rebounds. Edison's Marcus Brumsey, Jr. had 10 points and five assists.
"It was amazing because after we lost to Henrico, I thought it was over. Just to get that letter from the Capital Classic, it was great to play one more time in high school."

— Wakefield senior Re'Quan Hopson
"It was good to be surrounded by players just as good as me," Hopson said, "… and I'm glad that I jelled well with them."
Hopson is hoping to attend Queens College in Flushing, N.Y.
The East-West game was the second of three all-star contests held during the Capital Classic. Earlier in the day, Hopson's high school coach, Wakefield's Tony Bentley, coached the South all-stars during a 109-106 loss to the North all-stars.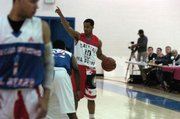 "It was really good," Bentley said. "It's been a long time since I've coached in an all-star game — last time, I think, was '05. Just to meet those guys last week and then to build a little bond with those guys was awesome."
The South team trailed by more than 20 points in the second half, but battled back and pulled within one late in the fourth. The North squad, however, was able to pull out the win.
"I kept telling them: 'You guys see all-star games, come on, let's be different. Do something different,'" Bentley said. "They dug in down to the end and I was very happy to see they didn't want to go out like that. When the final horn went off you heard, 'Ah, [dang,]' because they wanted to win. Most kids want to just go through the motions in an all-star game [but] they went hard."
Clinton Christian's Byron Hawkins scored 29 points for the South all-stars and earned MVP honors in a losing effort.
St. Stephen's & St. Agnes teammates Cam Gregory and Gavin Peppers played well for the South all-stars. Gregory finished with 18 points and 15 rebounds, while Peppers had 15 points, six assists and five rebounds.
In the main event, the U.S. all-stars defeated the Capital all-stars 139-134. Bishop O'Connell senior and future Maryland Terrapin Melo Trimble suited up for the Capital all-stars, finishing with 14 points, five assists and four steals.
U.S. all-star Angel Delgado, who attends The Patrick School in Elizabeth, N.J., and will play for Seton Hall, finished with 23 points and 15 rebounds, and earned MVP honors.