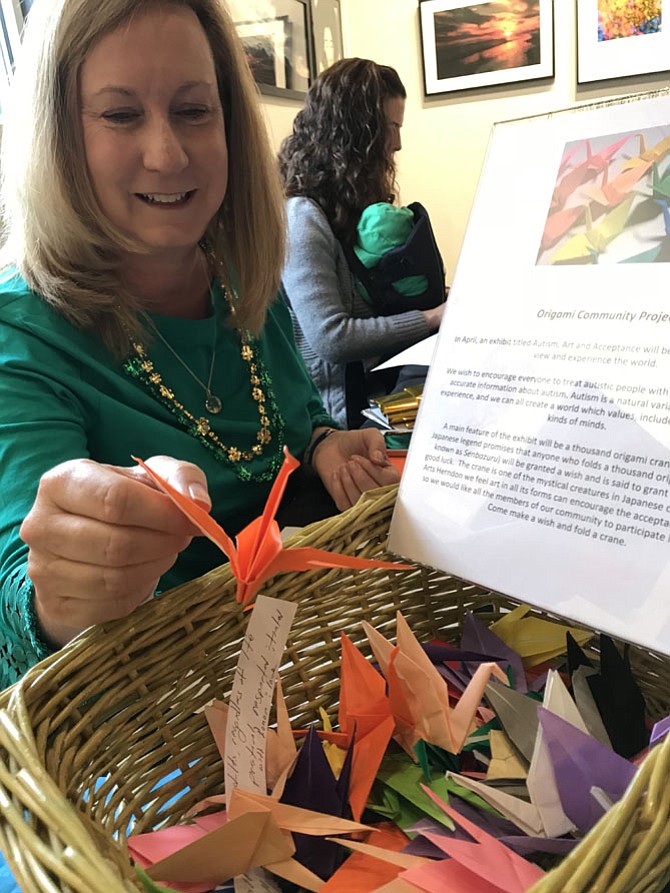 'Autism, Art, and Acceptance'
The exhibit, "Autism, Art, and Acceptance" brings together works by clients at GKTC and individual artists Spencer Kinsolving, George Thigpen and Angel Torres. It will run April 3-April 21, with the opening reception Saturday, April 7, 5-7 p.m. Other events surround this exhibit including a concert by award-winning singer-songwriter, Crys Mathews on April 21, at 7 p.m. and a Poetry Night TBD.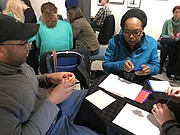 Put out a call for help in the Town of Herndon and citizens respond. On Saturday, March 17, nearly 125 individuals of all ages and abilities showed up at ArtSpace Herndon located at 750 Center St. They were there to assist with a challenge put forth by Growing Kids Therapy Center in Herndon (GKTC) as the center teams up with ArtSpace Herndon for their participation in the upcoming "Autism, Art and Acceptance" exhibition due to open in the Post Gallery, ArtSpace Herndon on April 3.
The challenge? Help GKTC, owned and operated by local Herndon resident Elizabeth Vosseller, fold 1,000 small square sheets of colored paper into origami cranes. The cranes would become part of an interactively-created dimensional work of art originated by GKTC to support National Autism Awareness Month.
"The 1,000 Crane Challenge" and its culminating artwork are based on a variation of two ancient Japanese legends. One promises that anyone who folds 1,000 cranes will have their wish granted. The other states if the 1,000 origami cranes are suspended by string, called 'senbazuru,' it will lead to eternal good luck.
During the challenge, adults, youth and children, some with autism and some not, worked together in the inclusive environment. They helped each other follow the complicated 20-step directions to fold what a couple of adults were overheard lovingly calling, "these darn cranes."
As some individuals struggled, others naturally turned to them and offered help. Cell phones with video directions slid across the tables shared from one person to another. Individuals huddled together; heads close while they studied the provided direction sheets. There was much pointing, explaining and refolding of the papers.
Vosseller's practice, GKTC, specializes in supporting the communication challenges for non-speaking and minimally speaking individuals. According to Vosseller, for some individuals, autism can affect their ability to communicate via speech. Speech may not be their primary means of communication. GKTC teaches their clients the purposeful motor skills to "spell to communicate" their thoughts and ideas.
Vosseller noted that art too provides a vehicle for communication. "Art is a beautiful means of communication for all individuals," she said. "(It) is a wonderful medium for autistic individuals to express their thoughts, emotions and individuality."
As more and more cranes filled the baskets, Vosseller invited those present to write their wishes on slips of paper. By the end of the afternoon, not only had participants folded a reported 600 beautiful cranes and written wishes on slips of paper, but they experienced a newfound or enhanced camaraderie and acceptance. Together, the jointly created cranes and penned hopes and dreams will be combined into an original work of art by GKTC in support of autism acceptance.
A few weeks earlier, one of the first wishes had been shared, typed by Joshua Dantinne, minimally speaking autistic teen. He had learned of "The 1,000 Crane Project" during an afternoon session at Growing Kids Therapy Center.
Dantinne's therapist had asked him, "What would your wish be? "Dantinne typed back, "That everyone in the world could stop fighting over trivial issues."