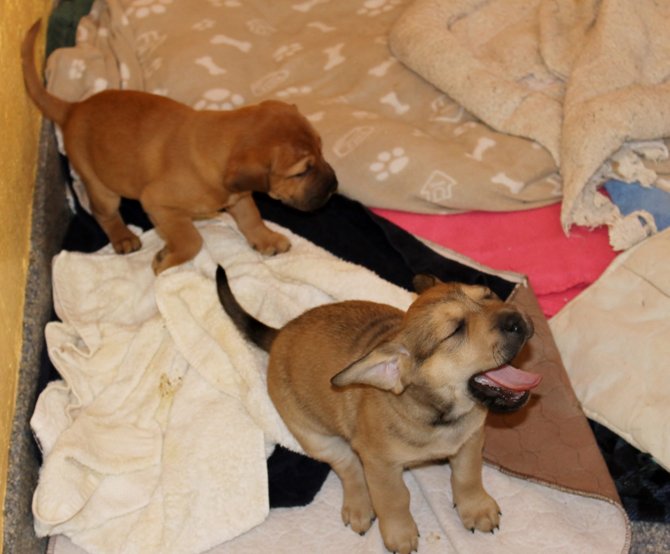 For Rebecca Goodhart, the most challenging part of being deputy director of Homeward Trails Animal Rescue in Fairfax Station is that the need to help animals never goes away.
"We do what we can for those we can help, but the need is always there," Goodhart said.
Until people recognize the importance of spaying and neutering, pet overpopulation will continue and animals will unfortunately be needlessly euthanized, she said.
Homeward Trails, an animal rescue that rescues animals from high-kill shelters in the region and from Maryland, West Virginia, and North and South Carolina, is continuing its mission at a new adoption center in Fairfax Station.
THE CENTER, which opened in November, has room for the dogs to play outside and features an on-site residence, where Goodhart lives with her husband, Mark.
"It just happened to be the perfect opportunity for us. We have lots of outside play space, which is something that can be difficult to find," Goodhart said. "We run it kind of day-care style, so the dogs are out playing when the staff is here, so they have the opportunity to burn off a lot of energy. When it's a nice day, they can spend a lot of time outside.
Arlington resident Sue Bell, the founder and executive director of Homeward Trails Animal Rescue, says that the new adoption center is unlike any animal rescue in the area, with its cage-less facility and abundance of outdoor space. Since 2002, when Homeward Trails was founded, over 17,000 animals have been rescued.
"The adoption center is allowing us to bring potentially up to 500 more dogs and several hundred more puppies a year that we wouldn't have been able to save before," Bell said.
Currently, those interested in adopting an animal coordinate through an adoption coordinator and can visit the shelter by appointment.
"We will probably within the next couples of months start having some public hours. We're in the process of hiring," Goodhart said.
Homeward Trails relies on 300-400 volunteers, and about a dozen people volunteer at the Fairfax Station location.
"We're always looking for more volunteers and for people to foster animals," Goodhart said. "We're looking for youth volunteers to come in during the summer time, for those who need service hours that can be a good time to volunteer."
Bell said the organization will soon implement its Canine Buddy program, which will partner up a volunteer with a dog that needs a little bit more attention.
Homeward Trails also has a working relationship with the Fairfax County Animal Shelter. The two organizations often trade animals that are in need of a different atmosphere.
Although most of the animals that come to Homeward Trails are rescued from high-kill shelters in mostly rural areas, they do occasionally take pets from owners who can no longer care for them.
"We can't keep up with the requests that we get, but we do try to help people when we can," Goodhart said.
This problem of overpopulation is all the more reason to adopt, Bell said, and pet stores are also risky because they import their puppies from puppy mills.
"What the public doesn't know is that pet stores all across Virginia get their puppies from puppy mills from out of state," Bell said. "We know that pet stores in Fairfax City and Fairfax County have been sourcing their puppy stores from puppy mills."
At puppy mills, the conditions are horrible, Bell says. Homeward Trails has previously rescued dogs that have come from puppy mills. Bell is also actively working to raise awareness of this issue in the area.
"A puppy mill is a commercial entity that has dozens if not hundreds of breeding female dogs that are kept in unsanitary, uncomfortable, inhumane cages and bred and bred and bred, to produce as many puppies as they can," Bell says.
STATE LEGISLATION was recently passed in Virginia that will require pet stores to post information with the breeder's name, location and USDA license. The bill, called Bailey's law, goes into effect July 1.
"A consumer can come in and Google the breeder's name and see if they have any violations," Bell said.
Bell said people should continue adopting from shelters because so many animals are needlessly euthanized.
"In a nine month period, over 900 puppies were imported into Virginia, for sale, at pet stores," Bell said. "At the same time, so many animals were needlessly euthanized at pet shelters because there wasn't enough space for them."
Goodhart said potential adopters can find nearly any animal they desire at a shelter.
"So many animals are needlessly euthanized. They don't have any behavior problems or medical problems, there just are simply more animals than people than want them, and that's really unfortunate," she said.
The new adoption center allows Homeward Trails to rescue more animals, and while it's a comfortable place for them, the goal is for them to find permanent homes, Bell said. The new adoption center is in need of volunteers who can help the dogs find their permanent homes.
Bell and Mark and Rebecca Goodhart, along with other staff members and volunteers, are working to make this a reality.
Goodhart even said that she and her husband Mark, who works as the director of the adoption center, often find themselves talking about the dogs when they go out to dinner. They both enjoy living so close to the shelter.
"We try not to talk about the dogs outside of work, but sometimes it happens," Mark Goodhart said.
But with all of the need, it's hard to avoid the topic. In addition to combating problems of overpopulation and puppy mills, Homeward Trails was recently active in the push to convince Arlington County to adopt an ordinance which prohibits tethering dogs for more than three hours in a 24 hour period. They are now working to convince Fairfax City and Fairfax County to adopt a similar law.
For more information on adopting an animal from Homeward Trails, visit www.homewardtrails.org.