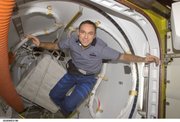 Carl E. Walz had a distinguished career as a NASA astronaut and is a veteran of four space flights, logging a total of 231 days in space.

He was a mission specialist on STS-51 (1993), was the Orbiter flight engineer (MS-2) on STS-65 (1994), was a mission specialist on the STS-79 (1996) mission to the Russian Mir Space Station, and served as flight engineer (FE-1) on ISS Expedition 4 (2001-2002).
During Expedition 4, Walz and his U.S. and Russian colleagues performed flight tests of ISS hardware, conducted internal and external maintenance and outfitting tasks, operated the Space Station Robotic Manipulator System, and conducted numerous experiments in a variety of scientific disciplines. Also during that expedition, Walz completed two spacewalks totaling almost 12 hours, in both Russian and U.S. spacesuits.

Besides being a NASA astronaut, he also served as the director for the Advanced Capabilities Division in the Exploration Systems Mission Directorate at NASA Headquarters in Washington, D.C. He was responsible for a broad range of activities including human research, space technology development, space nuclear power and propulsion, the Lunar Precursor Robotic program, and NASA's physical science and life science experiments on the ISS and Space Shuttle.

An Air Force veteran, Walz retired from active duty in 2003. He graduated from Kent State and John Carroll universities, both in Ohio.
He's currently vice president for Human Space Flight Operations of Orbital Science Corp.'s Advanced Programs Group. He's responsible for cargo and mission operations for Orbital's Commercial Orbital Transportation Services demonstration and Commercial Resupply Services programs.