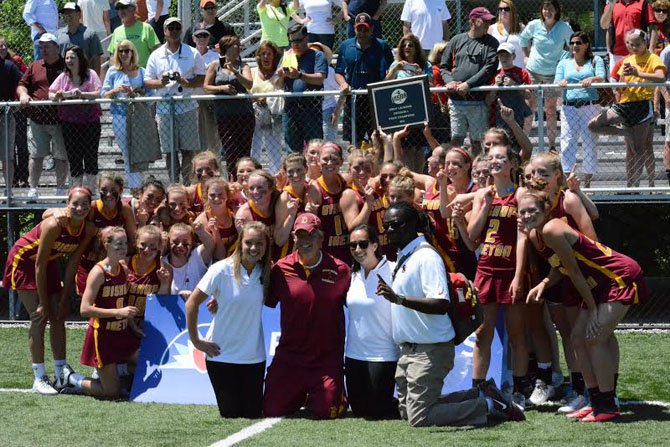 Bishop Ireton girls' lacrosse coach Rick Sofield said during the season that his team's focus was winning six games in May --- the number of victories it would take to bring home a WCAC title and a VISAA state championship.
On May 17, the Cardinals earned the sixth and final victory to complete their task --- and it was a memorable one.
No. 2-seed Bishop Ireton defeated No. 1 St. Stephen's & St. Agnes 9-7 in the VISAA Division I state final at Collegiate School in Richmond. Ireton had never beaten St. Stephen's & St. Agnes, considered one of the top programs in the nation. History, however, didn't stop the Cardinals from limiting the Saints to one second-half goal en route to the state title.
"We reinforced the message we've been delivering all year: You don't need to make big plays to win big games," Sofield wrote in an email. "You need to make little plays and lots of them. Making the right pass, taking the right angle on our slides, fighting for draws, picking up ground balls, boxing out --- one or two individuals making a couple of big plays doesn't win championships, but everyone making little plays all over the field will."
Ireton senior Kendall Cunningham scored a team-high three goals against the Saints. Kayla Duperrouzel and Kelly Mathews each had two goals and one assist. Charlotte Sofield had one goal and three assists, and Kelly Larkin finished with one goal and an assist.
Goalkeeper Olivia Cole had three saves and Amelia Cole had one save.
Earlier in the season, Rick Sofield spoke about the desire to test the Cardinals by scheduling quality opponents. On Saturday, Ireton faced one of the best.
"We want to compete and test ourselves against the best teams in the country," Sofield wrote. "That's how you become the best you can be: by learning how to compete against great teams. St. Stephen's & St. Agnes has been the premier program in our area, if not the entire U.S., for decades. They're right down the road from us. What coach wouldn't want a chance to test their players against such a great team?"
Charlotte Sofield, Luzik, Mathews and Natalie Irwin earned first-team all-state honors. Larkin and Duperrouzel were named to the second team. Rick Sofield was named Coach of the Year.
For the WCAC, Charlotte Sofield was named Player of the Year and Rick Sofield was co-Coach of the Year. Mathews, Irwin and Olivia Cole received first-team honors, and Larkin, Luzik, Duperrouzel and Maggie Lohrer were named to the second team.
Cunningham, Christine Macey, Brittany Dolan and Susan Morad garnered honorable mention.
After finishing the regular season with a 14-4 record, Ireton defeated Paul VI and Holy Cross to reach the WCAC championship game. The Cardinals beat the Falcons 17-7 on May 12 to capture the conference title.
Ireton opened state tournament action by beating No. 7 Norfolk Academy 19-6 in the quarterfinals on May 13. Three days later, the Cardinals beat No. 3 Collegiate 9-8 in the semifinals before knocking of St. Stephen's & St. Agnes the following day.
"This selfless group of girls played as a team and won as a team," Rick Sofield wrote. "We weren't successful because of one or two or even three or four girls. We were successful because 30 players bought into the same goal and sacrificed to achieve it. It wasn't an accident."