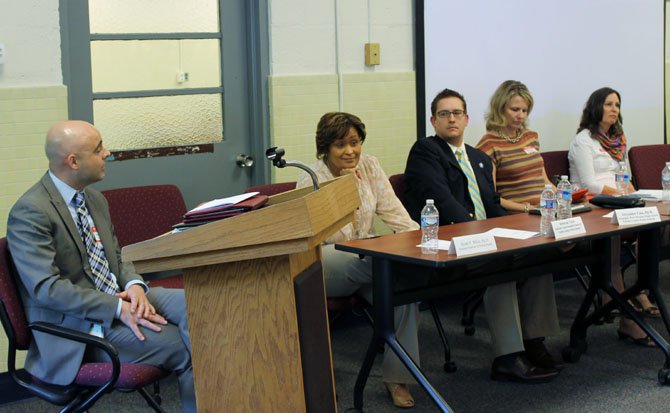 According to the Fairfax County 2012-2013 Youth Survey, youth with fewer assets were more likely to be depressed. These assets include high integrity, extra-curricular activities, help from parents, and more.
This topic, along with ways to promote positive health for children and youth, was discussed at this year's NEXUS conference at the Virginia Hills Center on May 9. The conference centered on ways to keep youth mentally and physical happy and healthy.
Dr. Stuart White, a post-doctoral research fellow at the National Institute of Mental Health, was the keynote speaker. White spoke about the knowledge NIH is gaining regarding brain function and the neurobiology of aggression.
The conference was dedicated to the late Cliff Hardison, who served as principal of West Potomac High School.
Sal Olivio, a teacher at West Potomac High School, and students Amilcar Martinez and Tanah Kaisa, addressed ways they are promoting positive mental health at their school. Suicide prevention has been a major topic, as well as anxiety and safe sex practices.
BECAUSE CYBER BULLYING has been such a major issue for teenagers, the school started a West Potomac twitter hashtag-#WPchainreaction- to spread positivity around West Potomac. The school also recently marked Social Media Awareness Week, which Olivio said reminded students if they didn't have anything nice to say to not say it at all.
But in addition to watching what is said over social media, it's important to know who youth are talking to on these sites. Parents need to remain vigilant of what their children are doing on social media sites, said Ed Ryan, the gang prevention coordinator for Fairfax County.
Sex trafficking is a major problem in the area, Ryan said, and social media is often used to search for possible girls.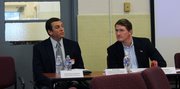 "Facebook is one of the number one recruitment tools," Ryan said.
Sex traffickers use the site to look for vulnerable girls with low self-esteem. In a time when some teenagers share nearly every detail of their life through Facebook, this isn't too hard to do. For example, teenagers who frequently post things like "I hate my life," and "Nobody understands me" are prime targets for traffickers, who will message the girls with compliments, and attempt to draw them in.
Luckily, Fairfax County Public Schools recently adopted a curriculum for students in grades six through twelve that provides information on sex trafficking and educates them on ways to stay safe.
PREVENTION AND INTERVENTION were major themes at the conference. After the incident involving State Sen. Creigh Deeds and his son Gus, who stabbed his father before killing himself after he was released from an emergency custody order when a bed couldn't be located for him within the six hours allowed by law, some legislation was passed in Richmond to try to prevent further tragedies from occurring.
"It's unfortunate that we had to have that happen in order to do anything about it," said Del. Scott Surovell (D-44), who provided an update on legislative activities related to mental health.
Following this year's General Assembly session, law enforcement is now required to notify Community Services Boards immediately when they take someone in for mental health issues.
On April 30, Surovell said that an online bed registry went live that lists all available beds in the state.
Equity was another topic at the conference. Within Fairfax County, there are pockets of inequity, and this is being addressed through SCYPT (Successful Children and Youth Policy Team).
According to Jack Dobbyn, SCYPT co-chair and Mount Vernon Representative to the Human Services Council, SCYPT works to ensure that all children are developing into healthy, happy adults.
Early childhood development and education is a priority for SCYPT, Dobbyn said.
"The difference in preparation at the kindergarten level would blow your mind," he said.
NEXUS is an outreach committee of the Gartlan Center for Community Mental Health's advisory board, and aims to promote well-being for children and youth.