In order to raise awareness to the fact that sex trafficking can happen anywhere, even in Fairfax County, a new prevention campaign and website raising awareness of this issue launched on Jan. 13.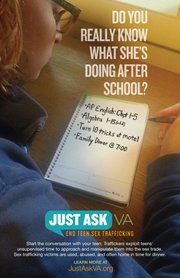 The Fairfax County police partnered with Fairfax County Public Schools and the Office for Women & Domestic and Sexual Violence Services to launch the "Just Ask" Prevention Project, which includes a website and is intended to increase awareness of sex trafficking in Fairfax County.
"Obviously we prosecute and we do the enforcement efforts, but if we can prevent it, that is a better option for us," said Bill Woolf, lead detective of the Fairfax County Police Department human trafficking unit. "The best method of prevention is to raise awareness."
Woolf said the unit is focusing their efforts on combating juvenile sex trafficking.
"About 60 percent of our case load is juvenile sex trafficking. The sexual trauma that these kids endure really has life-long effects," Woolf said.
IN AN EFFORT TO RAISE AWARENESS on sex trafficking and ways it can be prevented, a working group was formed to figure out how to best tackle this issue.
"The end product was this 'Just Ask' prevention campaign, and there are many facets to this campaign," Woolf said.
According to Woolf, traffickers often keep young girls in the cycle of violence and make them feel like they have no escape, which is why awareness is important.
"The theme is just ask - if you are a parent, just ask your teen. If you are a friend, just ask. If you are an educator, ask the student. That is the essential theme to this campaign. It's all about the open dialogue that we think is really going to impact in a positive way the reduction of sex trafficking in Northern Virginia. If we talk about it, people are aware of it, they know what they're looking for, and they know where to turn," Woolf said.
Springfield District Supervisor Pat Herrity has also been educating people in his district about the fact that sex trafficking can happen in Fairfax County.
"One thing I have been trying to do is to raise awareness that this is out there. We actually have gangs that are recruiting our young girls to go into sex trafficking," Herrity said. "I'm not a detective, but one thing I can do is raise awareness and educate our population on the dangers."
Part of the campaign includes the addition of sex trafficking education materials for Fairfax County Public School students, which the school board approved at their Jan. 9 meeting.
"This is an area where we have come to realize that, where as we might like to think it can't happen here, it does, and it has, and it's a very serious issue," said Mason District School Board member Sandy Evans. "The media we have created here in FCPS will go a long way to raising awareness and hopefully protecting our young people who are victims of sexual trafficking at very young ages."
SEVERAL SCHOOL BOARD MEMBERS encouraged the public to watch the videos, which other school districts also want to use.
"There are school systems around the United States that are just absolutely anxious to get this videos from us, so what we are doing is not only helping Fairfax County, it is helping school systems across the United States," said Braddock District School Board member Megan McLaughlin.
Springfield School Board member Elizabeth Schultz was the only board member who voted against approving the material.
"Frankly, I think with the degree of the sensibility of this material, something like this should be opt-in, not opt-out," Schultz said.
Will Ashe, the school board student representative, worked with the filmmakers on this project and was also part of the Family Life Education Curriculum Advisory Committee.
"We need to make sure as many people as possible know about this," Ashe said.