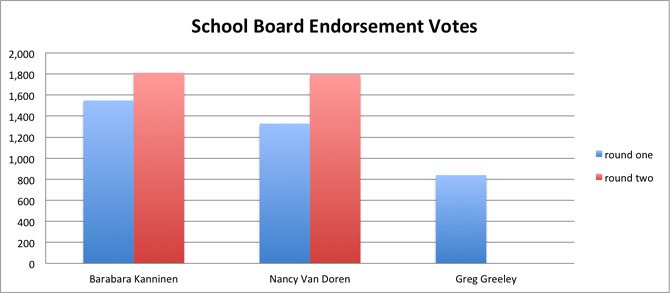 After two rounds of voting in the Democratic caucus, author Barbara Kanninen seized the Democratic endorsement with a slim 18-vote margin of victory against Nancy Van Doren. A third candidate, Greg Greeley, was knocked out in the first round of voting. That led to an instant runoff in which the second choice of voters were considered. Most of those went to Van Doren, which led to a razor-thin 18-vote margin of victory for Kanninen in the second round of voting.
"It was very unusual to have three super strong campaigns with super strong candidates," said Kip Malinosky, chairman of the Arlington County Democratic Committee. "Usually there is someone who is lacking in area. But not this time."
Although Kanninen has seized the Democratic endorsement, no party affiliation will appear next to her name on the ballot this November when she faces independent candidate Audrey Clement. Since Democrats created the endorsement process a decade ago, the party has lost a School Board race only once, although Clement is well known to Arlington voters because she has waged four unsuccessful campaigns for County Board. Elections officials are expecting a turnout of about 50 percent to 55 percent of registered voters, which would be about 65,000 to 70,000 voters.
"Interestingly enough, people tend to vote on bonds at a higher rate than they vote in the School Board race," said Arlington Registrar Linda Lindberg. "Voters seem to care less than about the School Board than they do some of the other issues and races on the ballot."
AFTER HER VICTORY over the weekend, Kanninen said she won because of her message to voters about standardized testing and overcrowded classrooms. On the campaign trail, she said, she heard from a number of parents who said they believed standardized testing plays an outsized role in county schools. Kanninen said she would like to reduce the influence of standardized tests in the operation of Arlington County Public Schools, although she remains vague about specifics.
"I'm not going to get into specifics about which pieces of test prep we are going to add or subtract," said Kanninen. "But my goal is to start talking about that and develop a process that will work with the administration."
On the issue of overcrowded classrooms, Kanninen said she would like to see a capital-improvement program process that involves the community more than the current model. Because this is the part of the budget in which School Board members make decisions about when and where schools are constructed, she said, members of the community should have more of a say in what kind of facilities are approved. She said she would like to see the process start earlier, although she was vague about when that should be.
"All I can say right now is soon," said Kanninen. "I can't give a date."