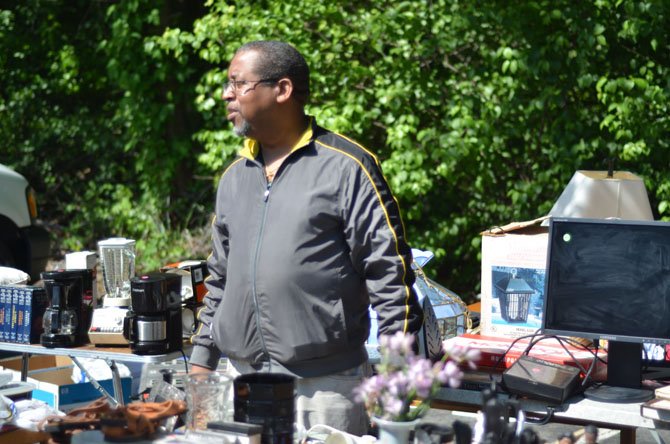 "I heard about this yard sale from a co-worker," said Alfred Carter, a resident of Alexandria. Carter was one of 95 participants in the May biannual yard sale hosted by the Reston Association. The yard sale was held at the parking lot near the organization's office at 12001 Sunrise Valley Drive the morning of Saturday, May 17. Shoppers and vendors mingled from 8 a.m. to 12:30 p.m., enjoying the nice weather. "It is very nice and well organized," said Carter, who brought an assortment of items to the yard sale.
Despite the existence of sites such as eBay and Craigslist, community yard sales still have an attraction, and that is true for the Reston Association Yard Sales. The event organizer, Ashley Soloff, developed the idea of a community yard sale sponsored by the Reston Association. The idea was well received, as some neighborhoods in Reston do not permit individual yard sales.
"This bi-annual event is a huge success thanks to the volunteers that assist with day of set-up and implementation of the sale," stated Soloff. "Volunteers must arrive at 5:30 a.m. in order to set-up and be ready for the vendors to arrive. It's difficult to find volunteers to come out that early on a Saturday so I appreciate all they do to help."
A variety of items including books, purses, ceramics, clothes and plants were available for purchase at the yard sale. "I always do great at this yard sale," said Reston resident Melissa Romano who had a vending station. "We were the first ones here, and arrived at 6 a.m." Romano attended the event about six times over the past ten years with other friends. "It has been a great yard sale," said Maggie Terry, also a resident of Reston. "The emails we got from Reston Association in advance describing the event were helpful."

At the yard sale, all sales are final. The costs to reserve a vending station this year were $26 for residents of Reston and $33 for non-residents. Reservations for vending booths sell out quickly, so it is best to obtain a reservation in advance. Families and vendors sell a variety of items, and this event is a great opportunity to browse for bargains. "I will be moving in the fall to senior apartment," said Reston resident Susan Krzos who also had a vending station. "Next year I may come and buy some stuff." The Reston Association holds this event twice a year. The next sale will be on Sept 6.
For more information about the Reston Association, visit www.reston.org.
More like this story