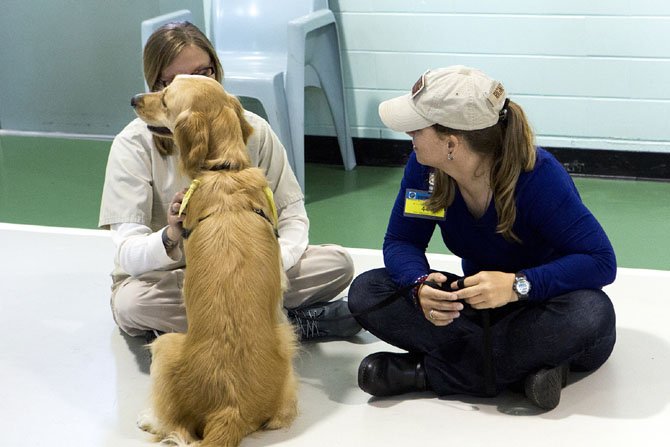 Paws4people assistance dogs sprinkle the country, matched with children and veterans whose lives have been forever changed. More than ten of those dogs have benefited from Tiffany's loving training at Lakin Correctional Center in West Virginia.

While paws4people breeds dogs with specific qualities to help ensure more successful assistance dogs, the organization also rescues dogs domestically and even some from Afghanistan.
Tiffany says her biggest challenges have come working with dogs who have been traumatized. It's difficult, when they can't talk to you about what happened, "to re-program a scared dog to letting him know that the world is ok and people are ok."
The work that Tiffany does is as healing for her as it is for the dogs she trains and the clients who are matched with her dogs.

She describes a challenging childhood in which her parents split up when she was five. When her mother remarried and started a second family, Tiffany moved in with her beloved grandmother and was raised jointly by her grandmother and her father.
Her voice cracks a little when she talks about feelings of isolation and not fitting in at school. By 13, she was acting out and turning to drugs and alcohol that she felt allowed her to fit in somewhere.
At 14, her grandmother and father agreed that a change of scenery might help. What followed was a wrenching move to South Carolina to live with her dad. But Tiffany didn't find it any easier to fit in in South Carolina, especially, she remembers with a wry smile, with her blue hair. From that point, she was passed back and forth between grandmother's home and father's home whenever she got into trouble.
"I felt like nobody really cared what happened to me… I just acted crazy and acted out and rebelled… I made bad choices and mistakes and ended up here."
Tiffany's life stopped when her fiancé died of a drug overdose. Suffering from PTSD herself, it's important to Tiffany that she is able to help the paws4people veteran clients with their PTSD by training dogs that will allow them to resume normal activities like going into a grocery store and getting gas.
Sabrina Rigney, ex-Air Force, was thankful to meet Tiffany and to learn more about NOEL, who will become her assistance dog.
"It was really great to meet someone who has had a chance to get to know and love NOEL. And she didn't mind me pestering her with questions about what NOEL likes, what she doesn't like." The nuggets shared by Tiffany will help Sabrina get through the long months of training both she and NOEL will go through before NOEL can join her permanently at home.
Tiffany gives her all to the dogs she trains, the clients who get matched with them, and her two half-brothers. She especially worries about the brothers, aged 17 and 19, with whom she speaks daily.
"I try to stay so close to them to keep them from turning out like [me] … I ask them about their day. Every day. I try to relate to them … because I just wish that I would have had somebody doing that for me."
She thinks that if there had been a program with dogs for her when she was younger, one where she could get the caring support and job training she is now getting, "things would have been completely different."
And completely different would mean that Tiffany's fiancé was still alive and she, not serving a sentence of 15 years to life in prison, for providing the drugs that killed him.