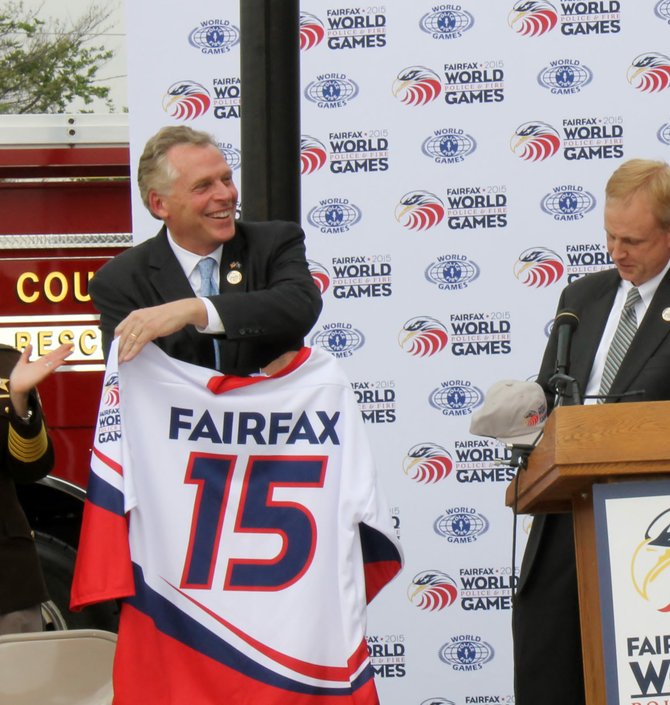 Even though the opening ceremony is still a little over a year away, Virginia Governor Terry McAuliffe joined officials from Fairfax County last week to announce the countdown to the 2015 World Police and Fire Games.
"This is great for Fairfax, but most importantly, this is great for the Commonwealth of Virginia," McAuliffe said at the May 21 event in Vienna.
The games, which will take place in 2015 from June 26 to July 5, will bring 12,000 police and fire athletes from 70 countries to Fairfax County, more athletes than the 2012 London Olympics. Anywhere from 15,000 to 30,000 visitors are also expected.
"What a unique opportunity we have to show the world what Fairfax County, the National Capitol Region, the commonwealth of Virginia, can do and what it's like to live, work and play here," said Bill Knight, CEO of Fairfax 2015.
McAuliffe has been named the chairperson of the Honorary Board of the games, along with leaders across Fairfax County. The Fairfax 2015 Honorary Board includes former U.S. Secretary of State Colin Powell, Virginia Senators Tim Kaine and Mark Warner, Virginia Congressional Representatives Jim Moran, Gerry Connolly and Frank Wolf, George Mason University President Angel Cabrera, Fairfax County Chamber of Commerce President Jim Corcoran, and Cal Ripken, among others.
"This is all about public safety, and I'm so proud of the men and women in public safety, including police, fire, EMS, and the sheriff's office," said Sharon Bulova, chairman of the Fairfax County Board of Supervisors.
The games are expected to bring between $60 and $80 million in economic impact to the area. They are open to any public officer, and will include events such as a half marathon, ultimate firefighter, bodybuilding, toughest alive, and dozens of other competitive events.
"Yes, this is bigger than the London Olympics," said Kevin Reynolds, chairman of the Fairfax 2015 Board of Directors and president of Cardinal Bank. "Most of the competitors will pay for themselves to come here, so our job is to make this a world-class experience."
McAuliffe said the games will increase tourism and encourage people to bring their businesses here. He also announced that $10 million needs to be raised before the games begin.
"We are putting in a bid for the region to get the Olympics that are coming up. This will be a great warm-up for us in order to be competitive," McAuliffe said. "These world games are really going to be a set-up for us as we try to bring the Olympics here to this region, which would be another gigantic economic boom."
The games promote fitness and readiness, and provide a sense of family and community for public safety personnel.
"These competitions are so vital in honing these skills. They're also a lot of fun to run, as we'll find out next year," Bulova said.
The Athlete's Village will be at the Reston Town Center, with many of the events taking place at George Mason University.
"It's going to be all over Fairfax County," said Jim Corcoran, president and CEO of the Fairfax County Chamber of Commerce. "We're really looking forward to it, and we're all in."