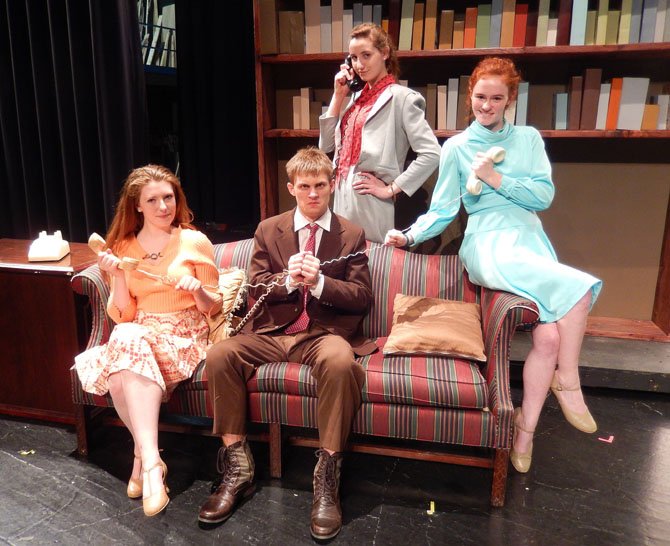 The 2014 Cappie nominations were unveiled last Monday, May 19, and Fairfax High's production of '9 to 5' received a whopping 13 nods – a school record – including Best Musical.
The winners will be announced June 8 at the 15th annual Cappies Gala at The Kennedy Center in Washington, D.C. Meanwhile, Erich DiCenzo – in his first year as the school's theater director – couldn't be happier, or more surprised at the sheer number of nominations Fairfax received.
"I had no idea," he said. "There was buzz that people enjoyed our show, and I know we performed our best and did everything we could do, the Saturday night the critics came. But I never expected 13 nominations."
Fairfax High's Cappie Nominations
Marketing and publicity: Sarah Heaton, Amanda McGuire, Renee Rozell, Katie Tomney.
Lighting: Sarah Heaton, Jonah Hurley, Alex Pepin, Will Schovelier.
Costumes: Amanda McGuire, Jessica Moore, Renee Rozell, Tabatha Ryberg.
Stage Crew: Darby Binford, Vicki Clinch, McKenzie Moskowitz, Marybeth Ward.
Choreography: Logan Floyd.
Featured Actor: Cameron LeDucq.
Male Dancer: Daniel Serpati.
Female Vocalist: Amanda Harvey.
Comic Actress in a Musical: Emily Ennis.
Comic Actor in a Musical: Doug Klain.
Supporting Actress in a Musical: Eva Petersen.
Lead Actress in a Musical: Caroline Silas.
Best Musical.
Calling it "surreal," DiCenzo said it was "almost a year ago exactly to the day when I was in an interview with Judy Bounds – Fairfax County's theater and dance specialist, and Cappies founder – for a theater-arts position in FCPS. Afterward, she invited me to attend last year's Cappie Awards."
AT THE TIME, he said, "I thought, 'What if I get hired by FCPS and have a musical that gets nominated for a Cappie?' So I don't think it's hit me, yet; I think it'll hit me that night."
DiCenzo knew "something happened," May 19, when his cell phone kept buzzing with one call after another. But instead of answering it, he checked the Cappies Website – and couldn't resist scrolling to the bottom where the Best Play and Musical nominations are listed.
"When I saw that we were nominated for Best Musical, I felt so proud for the students and was glad that our hard work paid off," he said. "It wasn't an easy show to mount, and getting that particular nod is nice because it encompasses everybody who worked so hard on it. So everything else is icing on the cake."
Throughout the whole process of putting on "9 to 5," DiCenzo told his students not to validate their performance by any Cappie nominations. "And the response to our show that we received from the community is so rewarding," he said.
"But seeing the nominations is also so meaningful because it's their peers – who are putting on plays in their own schools – who are voting and recognizing their work," continued DiCenzo. "So instead of a competition, it becomes a celebration."
Fairfax's nominations were in categories ranging from technical – such as lighting and stage crew – to costumes, choreography, publicity, acting, singing and dancing. So, said DiCenzo, "Everybody has been recognized, from stage crew to lead actress to everywhere in between, and it's really nice."
As a result, he said, "I've gone from being an outsider at last year's Cappies Gala to someone with a backstage pass to this year's event at The Kennedy Center. And it's been intriguing to learn how this whole system works.
"Because we have so many nominations – and this is a school record – many kids who never went to the Cappies before are going. So I'm the most excited to see their reactions – from the nervousness of that first rehearsal on The Kennedy Center stage to seeing the room filled with their peers in tuxes and gowns."
What was particularly gratifying for DiCenzo – and something he was concerned about – is that all three female leads were nominated. "I worried what would happen if one of those three women would be snubbed, because they're all 'lead' actresses," he said. "But in the end, they all got recognized, as did Doug Klain, the male lead, and Eva Petersen, a freshman."
All in all, "It's more than I could have ever hoped for," said DiCenzo. "And as a first-year teacher, the support I've felt has been really wonderful." After Fairfax received its Cappie nominations, he wasn't just congratulated by his theater-arts colleagues, but also by athletes who'd never before attended a school play.
EVEN STRANGERS with no affiliation to the school wrote letters telling him how much they enjoyed "9 to 5" and that they'd be back to attend Fairfax's next production. So, said DiCenzo, "It brings attention to theater arts in the community." It also shows that the new course he's been steering for the school's theater program is definitely headed in the right direction.
Eventually, he said, "I'd like Fairfax to do a show no one's heard of, but still fill the house because people know we have strong talent here and do good work. I'd also like to congratulate all the schools nominated for Cappies and not nominated – because something that can't be denied is that it takes an army to put on a good show – and everybody deserves recognition for that."