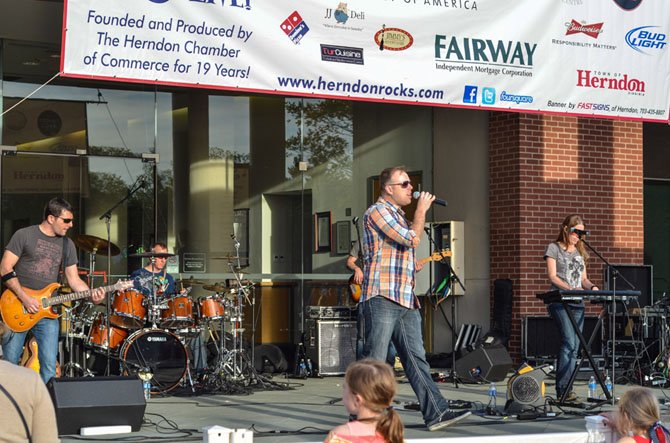 Herndon Festival
Lasting May 29 to June 1, the annual Herndon Festival will be a part of the largest free event in Northern Virginia. This award-winning event takes place in historic downtown Herndon at 777 Lynn Street. As always, there is no admission fee to enter the Herndon Festival.
In addition to carnival rides, the festival has other attractions including art and craft vendors and musical entertainment on three stages in downtown Herndon. The Council for the Arts of Herndon produces the Children's Hands-On-Art Area at the Herndon Festival on Saturday and Sunday. The Children's Hands-On Art Area will be located in the Kid's Alley at Station and Lynn Streets. The Children's Hands-On-Art tent will be filled with fun activities for children.
Another feature of the Herndon festival is the annual 10K and 5K race. A 10K and 5K race will be held on June 1. The race course goes through historic downtown Herndon during Herndon Festival weekend. Both the 10K and 5K courses are USATF certified. Awards are presented to the top two finishers from each age group from the 10 & under, to 70 & over. For more information on the Herndon Festival visit www.herndonfestival.net
Friday Night Live Concerts
The 20th season of Friday Night Live has a great music lineup. Concerts are held at downtown Herndon on Fridays on the Town Green. The Concerts are held May 2 to Aug. 22 and begin around 6:30 p.m. ending around 10:30 p.m. The Friday Night Live concert series is free to attend and is almost always held unless rain forces them to cancel. Friday Night Live (FNL!) is one of the most popular outdoor concert series in the D.C. area. The concert has been ranked as a "Must See" for Fairfax County, and is recognized by the Virginia Tourism Corporation. For more information visit site herndonrocks.com.
Music at Arrowbrook Park in June and July
Arrowbrook Management Corporation and Arrowbrook Centre, LLC are sponsoring Music at Arrowbrook Park concert series in celebration of this exceptional recreational facility's third full season of service to the public. The concert series will be on Saturday evenings from June to July. Through a partnership with the Fairfax County Park Authority, a series of concerts will be held at Arrowbrook Park. For last minute performance cancellations due to inclement weather, call 703-324-SHOW (7469) one hour prior to the program start time. Arrowbrook Centre Park Concert is made possible through the generous support of: The Ruth and Hal Launders Charitable Trust Arrowbrook Management Corporation Arrowbrook Centre, LLC. For more information visit www.fairfaxcounty.gov/parks/performances
Playing on Saturday evenings throughout June and July at Arrowbrook Park:
June 21 Guy Mendilow Ensemble (World Music), June 28 Black 47 (Irish), July 5 The Back Roads Band (Country), July 12 The United States Army Blues (Jazz), July 19 The United States Air Force "Max Impact" (Light Classics/Pop), July 26 Big Daddy Stallings & The Bluez Evolution Band (Blues & Soul)
ArtSpace Herndon
Located at 750 Center Street, Herndon, the community art gallery ArtSpace Herndon will show the exhibit Burnt Offerings on display from June 3 to 29. Artist Ms. Norwood will be attending the Artist Reception on Saturday, June 7, 2014 from 7 to 9 p.m. This event is free and open to the public.
ArtSpace also hosts an annual art event called Paint Herndon. The event is scheduled Saturday, Sept. 20, and is an all-day celebration of the arts and the anniversary of the opening of ArtSpace Herndon. For more information visit the webpage www.artspaceherndon.com.
Towne Square Singers Concerts
On June 13, 14, and 15 the Towne Square Singers will present a celebration of the silver screen and Hollywood's greatest songs spanning eight decades. From the opening "reel" through a collection of classics, love songs, a quest for adventure, academy awards winners on to the "final reel", a tribute to movie history's most famous musical moments as we give our regards to Hollywood. This event reunites longtime directors Jean Goldsby and Harlon Reece.
Tickets are $12 and the concerts will be held at NextStop Theatre at 269 Sunset Park Drive, Herndon. Tickets are available at the Herndon Community Center in person or by calling 703-787-7300. Tickets purchased on Tuesday, June 10 - Friday, June 13 by phone will be available at the show. Remaining tickets will be available for each show at the door.
4th of July Fireworks
Friday, July 4 there will be a family-fun event featuring games, arts & craft activities, bingo, food face painting, balloon artists and more in Bready Park at the Herndon Community Center, 814 Ferndale Ave. At 6:30pm face painting, balloon sculpturing, bingo and crafts begin, all for free! Festival foods will be available for sale. The fireworks show is choreographed to music and begins at dark, approximately 9:30 pm.
Herndon Labor Day Festival
Herndon Labor Day Festival is scheduled Monday, Sept. 1, from 12-6 p.m. Herndon Town Green, 777 Lynn Street. The annual Labor Day Festival includes live music, a craft show, food, twelve wineries and micro-brews and culinary demonstrations.