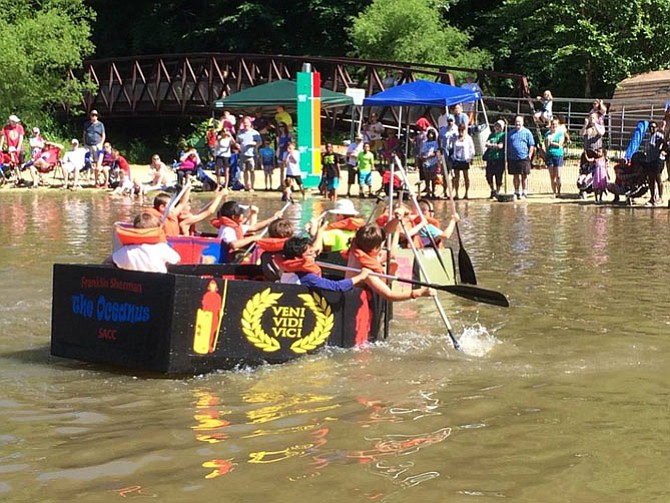 Springfield — For almost 50 years, Springfield Days, a community-wide weekend-long celebration has been the unofficial kick-off to summer. Held on June 3 and 4, this year's free events begin with a fun run and conclude with a cardboard boat regatta celebrating Fairfax County's 275th anniversary. In between there's a pet event, craft and fun fair, car show and book sale.
Springfield Days takes place the weekend after Memorial Day each year in Springfield. The events of the weekend are organized and managed by an all-volunteer staff.
The event has a long history, dating back to the mid-20th century with an annual celebration with food, games, fireworks, and music held on July 4. Most events took place in the big field at Old Keene Mill Road and Commerce Street (where Giant and K-Mart are today).
In the 1980s the business community began a new tradition called Springfield Days that connected the business and residential community through sidewalk sales and special events. That tradition has evolved into a community-wide celebration bringing together the business and residential communities, Fairfax County Park Authority, and service organizations. Andrews Federal Credit Union is the 2017 presenting sponsor.
Visit springfielddays.com.
Event Schedule Saturday/June 3
5K fun run and 1 mile walk. 8:30 a.m., leave from and return to Metro Run & Walk at 7261 Commerce St., Springfield.
PetFest. 9 a.m.-3 p.m. at South Run RECenter, 7550 Reservation Drive, Springfield. The event features blessing of the pets, pet focused vendors, rescue pet adoptions, pet photos, food vendors, entertainment. Leashed pets are welcome.
Craft & Fun Fair. 9:30 a.m.-2:30 p.m. at Springfield United Methodist Church, 7047 Old Keene Mill Road, Springfield. In addition to more than 45 crafters and vendors, there are activities for children, musical entertainment, and food and ice cream trucks.
Car Show. 10 a.m.-2 p.m. at American Legion Post 176, 6520 Amherst Ave., Springfield. Registration starts at 8 a.m.; no charge to show a car. All makes and models welcome including antiques, classics street rods, muscle cars, customs and exotics. Multiple trophies for different classes will be awarded.
Book Sale. 10 a.m.-5 p.m. at Richard Byrd Library, 7250 Commerce St., Springfield. Book sale proceeds support the Friends of Richard Byrd Library, its children's programs, periodicals and more.
Sunday/June 4
Cardboard Boat Regatta. Boat check-in begins at 8 a.m.; races begin at 11 a.m. at Lake Accotink Park, 7500 Accotink Park Road, Springfield.