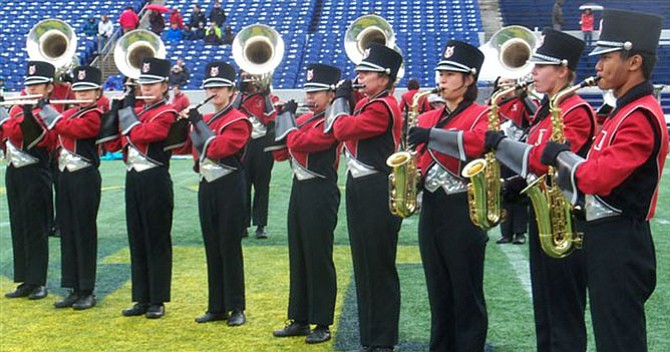 "I can't say enough about how proud I am of the students' efforts throughout the day. It was by far the coldest, windiest, and rainiest day they have had to perform in all year," said Brian Bersh, band director of Yorktown High School in Arlington.
Photo Gallery
And the Bands Played On
Click Photo for Flash
"I was absolutely thrilled with [my students'] efforts" in "very difficult conditions for a marching band," said Band Director Adam Foreman of Thomas Jefferson High School for Science and Technology in Alexandria.
USBands is an independent scholastic service organization that manages a competitive circuit for high school bands coast-to-coast. On a given weekend, the firm oversees 125 events in 25 states involving 700 bands with 70,000 student musicians.
On the first of this month, a northeast regional competition was held in the Navy-Marine Stadium at Annapolis. A glance at license plates in the parking area reflected wide-spread interest from CN, DC, MD, NC, NJ, NY, PA, WV and VA.
Standing in the miserable weather and hearing of a "wind warning" on the nearby Bay Bridge, any first-time observer would question whether the competition would go forward. Justin Heimbecker, USBands director, saw no reason not to proceed. Hours later under the still gray skies during the break before finals began, he opined that "overall the event has been fantastic" and "as for the band members, they are all champions."
Heimbecker explained the popularity of band competitions. "Yes; challenging other bands is exciting. However, the more important element involves each student competing against himself or herself." It is this latter part, he went on, that generates personal satisfaction derived from doing the best you can, striving to do better each time and contributing to the band and your other band members.
Having students from a wide geographic area isn't a particular problem for TJ's 95 band members. "They choose to attend the school. If any problem arises, it is usually solved by the parents who are very supportive of the band," Foreman said. As an example, he said "a big carpool system is in place."
A certain group can be found hovering around each band. They scurry about lifting and pushing whatever needs a lift or a push. Band directors are able to focus on music and marching only because of this cadre called "band moms" and "band dads." Barb Males of McLean, whose daughter attends TJ, said: "Billie is very committed to her music. That is why I am here." While speaking, she covered large musical instruments with towels to shelter them from the rain.
Once the event concluded, Bersh of Yorktown ventured a thought with respect to his band members. Memory of the day should be that "they performed their best show of the year despite the weather," and without any misplaced "regret they didn't perform well because of the weather."