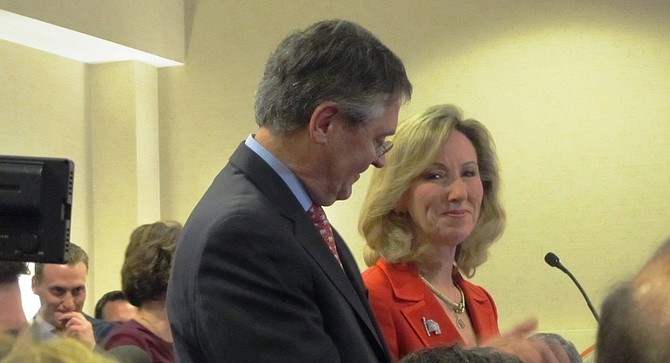 Virginia: U.S. House District 10
Source: VPAP
100% districts reporting:
Barbara Comstock (R)
Votes: 125,864
57%
John Foust (D)
Votes: 89,896
40%
William Redpath (L)
Votes: 3,393
2%
Brad Eickholt (I)
Votes: 2,441
1%
Gerry Blais (IG)
Votes: 944
0%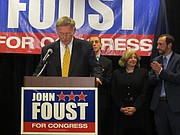 Shortly after 10 p.m. Tuesday night, Republican Del. Barbara Comstock entered the Hilton ballroom in Ashburn to the tune of her favorite song - "This One's for the Girls" sung by Martina McBride.
"I guess I'm finally getting a real job."

— Barbara Comstock in her victory speech
The sassy, defiant country anthem – which tells girls to "stand your ground when everyone's giving in" – struck the right chord with Comstock's supporters, who chanted and clapped along with the music as Comstock took the stage to deliver her victory speech.
Comstock, 55, was clearly savoring the moment, defeating Democrat John Foust, by a resounding 17 points for the Northern Virginia Congressional seat held by retiring Rep. Frank Wolf, Comstock's former boss and longtime political mentor.
Her decisive victory Tuesday ended one of the most contentious, expensive and closely-watched races in the Commonwealth.
When Wolf announced his retirement last December, the news sparked a flurry of speculation about the district's possible political shift, from solid Republican territory to more moderate "swing" district.
Democrats became bullish on the seat that had not been competitive for 30 years, and saw a prime pick-up opportunity.
In February, The Rothenberg Political Report rated the race as "leans Republican," noting that in recent elections, the district supported both Republicans and Democrats in presidential and gubernatorial races. The Washington Post ranked the seat as "the sixth most likely seat to flip control" in the 2014 election.
BUT COMSTOCK, according to both GOP and Democratic party insiders, ran an extremely disciplined campaign, and consistently delivered an appealing, moderate message to voters.
"It was her race to lose from the start," said one longtime Democratic strategist.
As she addressed her supporters, Comstock thanked Wolf, and said she was "honored to follow in his footsteps."
"We'll take this great Virginia way and bring it to Washington for all of you." Comstock said. "We know that government closest to the people is the government that works. The one thing I can promise you is that I'm going to work hard to push government down to you guys and gals in the 10th district."
Then she took a final, defiant swipe at Foust.
"I guess I'm finally getting a real job," Comstock quipped, referencing a comment Foust made during a debate about Comstock, a former Congressional aide and political lobbyist. Foust said his comments were taken out of context, but Comstock's campaign accused Foust of being "sexist," and repeatedly used the line against him in numerous campaign ads and stump speeches.
In his concession speech Tuesday before supporters at the Dulles Marriott, Foust, a Fairfax County Supervisor since 2007, alluded to the personal attacks and rancor that marked the contentious campaign.
"I think about the negative things my opponent said about me and the distortions," Foust said, standing on the stage with his wife, Dr. Marilyn Jerome, and his two sons. "It was hurtful. I think about how I would feel if those things were said about my own father, and I'm sorry I put my sons through this…"
Foust said there were many more substantive issues the candidates "could have talked about," and "so many things that remain to get done in Washington, things that led me to get into this race."
In her victory speech, Comstock said she considered "hiring fabulous people" one of her best attributes, and brought her campaign manager – Susan Falconer – onstage to thank her.
"We beat the boys, didn't we?" Comstock said.
AFTER HER SPEECH, Comstock left the stage as her theme song played again.
"I think it's really cool that she played 'This One's for the Girls' as she came in and left the stage," said Eve Marie Barner Gleason from Loudoun County. "She has a remarkable ability to build coalitions. I don't know anyone who can call her extreme."