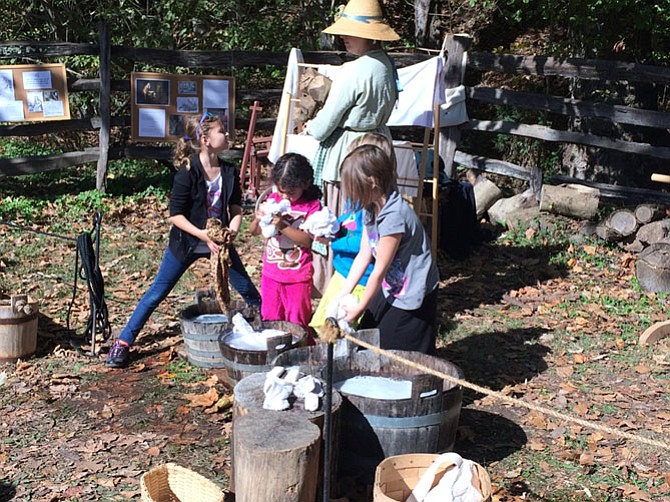 As the sun beamed down from an early fall sky, children pierced apple chunks with sharpened tree branches, held them over an open fire and then carefully dipped them into a jar of honey.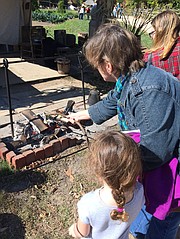 "Mmmmm," said 3-year-old Katie Patterson. "Yummy."
Her mother, Jasmin Patterson, of Arlington, led her to a woman, clad in long, cotton peasant dress holding a wet rag. "Wipe your hands sweetheart."
Katie's apple roasting experience was part of the fun, history and learning during the Fall Harvest Family Days at George Washington's Mount Vernon last month. During the celebration, Mount Vernon staff bid farewell to the farming season with a traditional harvest celebration as children tip-toed through crops of kale, cabbage and other produce.
The estate was filled with re-enactors dressed in period attire including George Washington, and activities included horse-drawn wagon rides, cornhusk doll making, apple roasting, slave life interpretations, a straw bale maze, and early American games and demonstrations, such as cooking over an open fire.
Visitors also had an opportunity to learn 18th-century dances. There were even live performances by musicians and blacksmithing demonstrations.

"We decided to bring our children out because it's such a gorgeous day," said Katy Pardo of Old Town Alexandria. "It's a fun way for them to learn about this history that they will be studying in school."

Authors Teena Ruark Borrows and Craig A. Koppie were on hand to sign their book, "Inside a Bald Eagle's Nest." The book gives the reader a photographic journey of American bald eagles during nesting season.
Many visitors said the event was well worth the trek to Mount Vernon. "My children had fun," said Emily Orem, "but they are dirty and tired and it's time to go home."