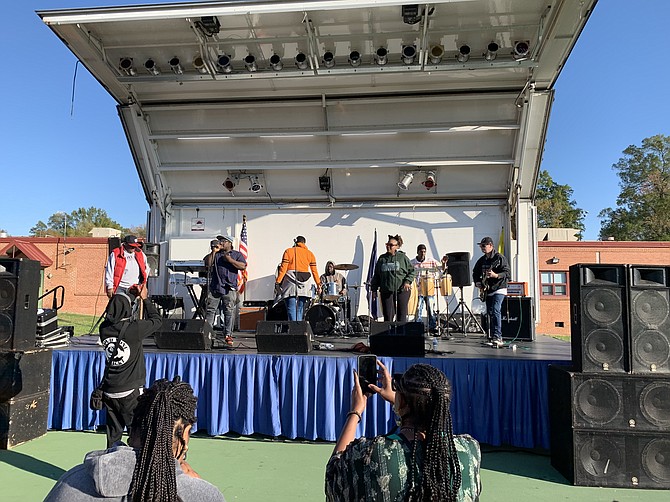 The Richmond Highway communities in Mount Vernon came together this past Saturday for a first-time event - "Increase the Peace – Unite the Highway Arts Festival." On a beautiful fall day, more than 100 community leaders, youth, activists, residents and artists mixed and mingled at the Gum Springs Community Center.
Organizer Mattie Palmore noted, "It is important for the community to work together with our youth to increase the peace and unite the highway. It takes a village and it starts at home. Watch for more events like this in the future, as we continue this important mission."
The concept for this event began this past summer after a week of multiple shootings in the area. I met with Jonathan "John John" Brownlee and Mattie Palmore to discuss ways to bring the neighborhoods of the Richmond Highway Corridor together in a positive response to these disconcerting happenings. We decided to organize an event to bring residents, particularly youth, together and show that our community will not stand for this violence. "This is not who we are, and we will not tolerate it here," was our underlying message. That's when the work began.
First, what would this event look like? We've all heard the famous cry, "stop the violence," but we wanted to encourage positivity. The result was "Increase the Peace – Unite the Highway". Second, how to pull this off? Gum Springs Community Center is the epicenter of the community and was an ideal location to host this event. The Arts Festival portion was added to highlight the talents of the community members, and when we asked for help, there were many who stepped up.
When asked about the event concept, Festival organizer John John stated, "Increase the peace is about doing all we can, for all we can, for as long as we can. I would like to say a special thank you to Kenji Dandy and Torrie Smith, who were with me the whole way."
In the end, everyone spent an enjoyable afternoon connecting, discussing alternatives to violence, singing, dancing, painting and eating. Special guest appearances by Supa Ken, artists Eddie Harris and Jahmai Arrington, along with music by BPM Experience Band led by Sha Sha the Mouthpiece and Yonnie Palmore made the day extra special. The Pride of Fairfax Masons and the PsiAA Chapter, Omega Psi Phi provided a delicious cookout for everyone who attended.
It was wonderful to see the community come together for a joyful celebration and to reinforce positive ways to address violence in the area. Special thanks to everyone who helped make this event a success, especially, John John, Mattie, Frank Pappas, TJ Greene, Neighborhood and Community Services, School Board Member and Chair Karen Corbett Sanders, TEAM MVD, Tony Ferguson and Eddie Harris.
Organizers would also like to thank Linda Brown, Jared Brown, Earl Edwards, Coach Dan Moon, Ms. Clarice, Alpha Phi Alpha and the entire Gum Springs community for their support.