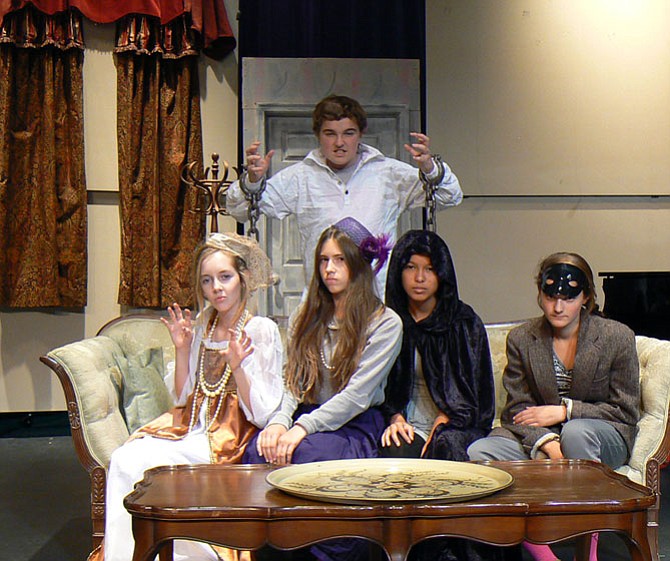 A British estate, 400-year-old ghosts, and a brave American family set the stage for The Langley School's Middle School fall production of "The Canterville Ghost." This hilarious spoof will run in three performances Nov. 13-15 at 6:30 p.m. in the school's Sherman Arts Center at 1411 Balls Hill Road in McLean. Tickets are on sale for $8 each at www.langleyschool.org.
Based on the short story by Oscar Wilde, this family-friendly show begins when a modern American family acquires a historic British estate – Canterville Chase – which just happens to be haunted by a centuries-old ghost. When the Americans attempt to rid their new home of this annoying spirit, the ghost enlists the help of his haunting friends from neighboring estates. Life is hectic around Canterville Chase until a solution is discovered.
Langley's production includes 20 cast members, 11 crew members, 11 student leaders, and a 10-member student pit ensemble to accompany the action on stage. This is a student-run production, so students are involved in all aspects of the play, serving as actors, assisting with sound and lighting, overseeing the action as student directors, working on props, makeup, or hair, and assisting with backstage operations. A new set design crew of student visual artists designed and helped create the Victorian set.
Since "The Canterville Ghost" takes place in England, Langley Middle Schoolers devoted an entire rehearsal to perfecting their British accents, ranging from the "Queen's English" to Cockney. With just one set and no scene changes, the show also allows Langley's student actors to focus on fully developing their characters – from stuffy Victorian ghosts to modern American teens.
Founded in 1942, The Langley School is an independent coed day school for students in preschool through eighth grade. Located on a 9.2-acre campus in McLean, the school reaches across multiple disciplines to discover, amplify, and embrace the talents of every child, every day.