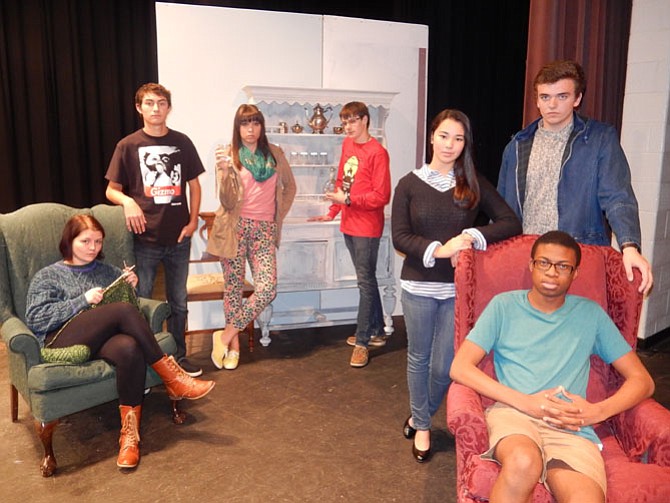 Something is definitely amiss after 10 people are invited to a party on an isolated island in Maine and are killed off, one by one. That's the premise of the classic mystery by Agatha Christie, and it's Westfield High's upcoming play.
The curtain rises Friday-Saturday, Nov. 21-22, at 7:30 p.m., and Sunday, Nov. 23, at 2 p.m. Tickets are $12 at the door or $10 via www.westfieldtheatreboosters.com and for high-school students with IDs.
"The roles require strong acting skills, and the cast members have truly outdone themselves creating their characters," said Director Susie Pike. "It's been a wonderful collaborative effort. Our production staff has worked tirelessly on props, lights, costumes and publicity, and my stage-management team is outstanding. It's such a pleasure to work with students who are so willing to take risks and take ownership of the creative process."
"I double-cast two of the roles because the students did such a good job on auditions," continued Pike. "In fact, these were some of the strongest auditions I've had in several years. I added eight characters — eight 'shadows' who act as the actors' consciences. It's been a really interesting process since I had students direct this area of the show. We've had a great time creating a mysterious, island home, and the audience should also watch for some special, symbolic paintings."
The action takes place in the parlor of a large mansion designed by senior Andrew Brockmeyer. "Besides the furniture, there are windows looking out on a balcony, plus a fireplace and a mantel," he said. "The design took about two weeks to create and is based heavily on this show's Broadway production."
Senior Zoe Hawryluk plays Evelyn Blore, a detective who's requested by the unknown host to come as a party guest to make sure no one steals his wife's jewels. But Blore soon finds out that the host and hostess don't exist.
"My character's bumbling, loves food and drink and talks about food all the time," said Hawryluk. "She's easily offended and is a bad liar; she thinks she's savvy, but she really isn't. It's difficult portraying her because the role was originally written for a male, so she's a strong, Katharine Hepburn-type woman. But it's fun playing someone like that. And she has a lot of lines that are comic relief, so that's fun to play, too."
Hawryluk said it's been great bringing this book to life, and the audience will enjoy such a well-written show. "They'll like the differences between the characters, plus all the suspense that comes with a murder mystery, because they'll constantly suspect different people," she said. "They'll also like the language and 1940s period costumes, which are really cool."
Portraying the hosts' secretary, Vera Claythorne, is senior Elizabeth Coo. "She's cool, resourceful and observant — she sees things others miss," said Coo. "She's also intelligent, youthful, welcoming and outgoing, and I like playing someone who's smart, and not the naïve ingénue."
"It's an ensemble cast and it's fun to work with the characters as individual people," continued Coo. "And as the 'hostess,' Vera has a relationship with the other people in the house. She tends to see the best in people, but she has flaws, so I get to show her as a whole person."
Regarding the play, she said, "Not only is it one of Agatha Christie's masterpieces, but it's also a classic whodunit that'll keep the audience guessing. And who doesn't love a good mystery? The show's character-driven, and each character has their own back story."
Calling it "psychologically thrilling," Coo said the story also sets aside that time period's normal, social conventions. "There are power struggles between the characters and different social classes and philosophies. And underneath it all is the will to survive, because they're all placed in a unique and scary situation. The characters are realistic, flawed people, and that's what makes it so much fun."
Junior Eni Oyeleye plays Judge Lawrence Wargrave, one of the most-respected judges in America. "He's a tough judge and he takes a lead trying to solve the murders. He's stiff and severe at first but, eventually becomes more vulnerable and affected by what's happened. The others look to him for guidance, but he doesn't form close relationships with any of them."
Oyeleye is enjoying his part because it's his first dramatic role and straight play, other than a Shakespearean comedy. "Even in a roomful of big personalities, the judge fills the room and is a commanding presence," he said. "And as the show goes on, the audience will like the rising tension and underlying edge as people are dying and no one knows why."
Portraying Philip Lombard, a former, high-ranking military officer, is junior Embrey Grimes. "He's an adventurer who always needs thrills, so this trip to the island is his new adventure," said Grimes. "He's sarcastic and pushes people's buttons to get a rise out of them, but he's genuinely a good guy. He's also a bit of a ladies' man and is very flirtatious, especially with Vera." As for the play, Grimes said everyone will be able to see a little of themselves in the characters and "they'll really care about them."