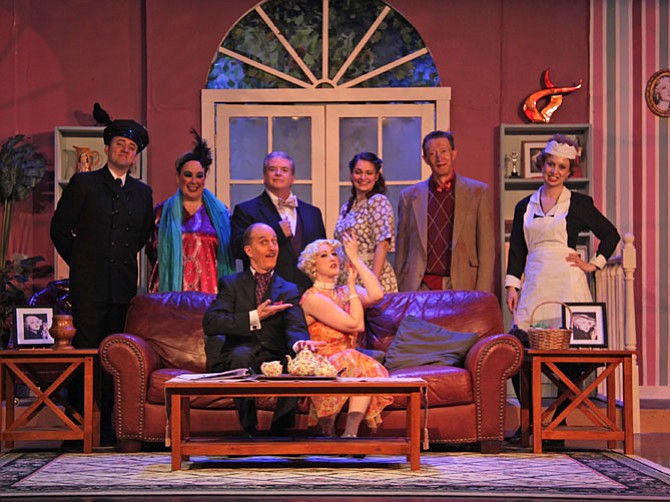 The Aldersgate Church Community Theater (ACCT) is presenting "Death by Design" from March 9-25. What happens when you mix the brilliant wit of Noël Coward with the intricate plotting of Agatha Christie? Set during a weekend in an English country manor in 1932, the story by playwright Rob Urbinati is a delightful mash-up of two of the greatest English writers of all time. Edward Bennett, a playwright, and his wife, Sorel Bennett, an actress, flee London and head to Cookham after a disastrous opening night. But various guests arrive unexpectedly — a conservative politician, a fiery socialist, a nearsighted ingénue, and a zany modern dancer — each with a long-held secret. When one of the guests is murdered, its left to Bridgit, the Irish maid with an interest in homicide, to solve the crime.
Director Eddie Page said his intent was to offer an evening of side-splitting comedy with a murder. "Playwright Rob Urbinati has written a farce tribute based of the style of two of England's finest playwrights: Sir Noël Coward and Dame Agatha Christie. Noël Coward, England's greatest comic playwright, composer, director, actor and singer of the 20th century was known for his wit, flamboyance, with such classics as 'Hay Fever,' 'Private Lives,' and 'Blithe Spirit.' Then there's the Agatha Christie element: a country estate with plenty of mysterious and outrageous suspects to point the finger at. Christie's reputation as 'The Queen of Crime' was built upon the classic elements: a murder is committed; multiple suspects who are all concealing secrets; and the sleuth who uncovers these secrets," he said.
He said Urbinati's style has given him and the cast a broad range of options when presenting each character's story. "My biggest challenge was deciding the right mix between Noël Coward's like wit and flamboyance and that of Agatha Christie's suspenseful sleuthing techniques," he said.
He added: "We have attempted to combine one-part murder, two-parts mayhem and seasoned with a hearty dose of clever wit by a very talented cast," he said. "The audience should choose their own weapon of choice that should contain laughter in order to unlock the mystery to a perfectly designed murder. Its light-hearted fun and guaranteed laughter for the whole family."
Larry Grey is playing the role of Walter Pierce, a rather priggish, stuffy conservative government figure. He is "very high-brow and critical of anyone who does not measure up to his conservative values," he said. "Yet a married man with an infatuation with Sorel Bennett, an aging movie star."
He added: "Walter must not be likable; he is the epitome of hypocritical conservatism — vain and conceited yet an underlying vulnerability."
He said he hopes the audiences enjoy the play. "It is a witty satirical look at human condition with all its flaws. And perhaps for an hour and a half we can laugh at ourselves and the world," he said.
Cal Whitehurst plays a Communist radical named Eric who is mentally unstable. "He has just escaped from a mental institution when he shows up at Edward and Sorel Bennett's country house to try to persuade Edward to stop writing plays about the hijinks of people in high society and instead write socially significant works like those of Bertolt Brecht," he said.
As far as challenges, he said, "The greatest challenge to playing Eric is maintaining a high level of nervous excitement without becoming monotonous and creating a fully realized character audiences will find believable and sympathetic. The play is set in England in 1932, and Eric's accent, mannerisms and attitudes must be specific to the time and place," he said.
Heather Norcross is playing the role of Sorel Bennett, an aging actress who longs to stretch the parameters of her talents and play the great roles even though she is not quite sure what they are. "She loves her husband despite throwing the occasional vase and keeps herself entertained by tempting unknowing men home into her eccentricity to keep herself entertained," she said.
She said as far as challenges, "Sometimes who the actor thinks the character is and who other people think the character is don't always line up. Reconciling that, while keeping true to the script and feeling comfortable in the role is not always easy," she said.
Erik Rieloff plays the role of Jack, who is the Bennett's chauffeur. "He's been with the family for a long time and has a connection to every character in the story. He's a real ladies' man and that gets him into quite a bit of trouble sometimes, but he doesn't take things too serious," he said.
He added: "The cast is absolutely phenomenal, and everyone has helped each other in a great way to ensure that the piece comes together. Sometimes having to do the Cockney accent was a little bit difficult but that is the extent of my challenge."
Producer Jen Price said she decided to produce the show because she "wanted to have the opportunity to work with Eddie Page and this show seemed like the perfect opportunity," she said.
She added: "I hope that the audience takes away the desire to share all about the show with all of their friends. I also hope that they appreciate the incredible actors that have been cast in this show and how beautifully they delivered the humor and mystery of the show. This show has been so much fun to watch come together," she said.
The Aldersgate Church Community Theater is presenting "Death by Design" from March 9-25. Show times are Fridays and Saturdays at 8 p.m.; Sundays at 2 p.m. Tickets are $15/general; $12/students and seniors; and $10/groups. The venue is located at Aldersgate Church, 1301 Collingwood Road, Alexandria. Visit www.acctonline.org.