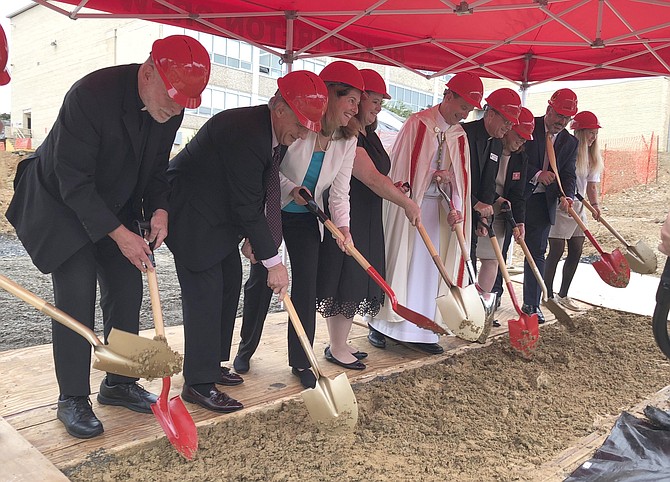 "[This building] represents a significant investment in our current and future students." —Bishop Ireton Head of School Dr. Thomas Curry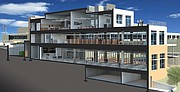 Bishop Ireton High School officially launched "The Future Is Now" fundraising campaign Sept. 18 at a groundbreaking ceremony for the construction of a new 40,000-square-foot academic center.
"In the 1960s it cost $1 million to buy the land to build this school," said Dr. Thomas Curry, Bishop Ireton Head of School. "Today we are looking at 20 times that, but with the generous support of the Diocese of Arlington funding sources, the goal of The Future Is Now campaign is $6.5 million. And because of the generosity of our alumni, we have already raised $4 million towards that goal."
Construction on the new building began last summer with the demolition of the Oblate House. Originally built as housing for the Oblates of St. Francis de Sales, who founded the Catholic preparatory high school in 1964, it evolved into administrative offices, classrooms and common areas.
The new four-story addition will be located adjacent to the current school building on Cambridge Road and will include an expanded cafeteria, media center and learning commons, STEM labs, as well as additional classrooms and collaborative learning spaces.
"The new wing is designed around the increasingly rigorous expectations for science and technology education," said Neil Flanagan of Maginnis + Del Ninno Architects. "The top floor is biology and physics labs. That also involves prep rooms and access to a private roof space for experiments they might need to run there."
The new building will have the ability to expand student enrollment up to 925. It will house a modern dining hall that triples the capacity of the current cafeteria.
"The first floor is almost entirely a large, high-ceilinged cafeteria that can house the full student body for the first time in decades," Flanagan said. "It has direct access to an outdoor patio, as well as the school chapel."
Other campus-wide initiatives include a redesigned front entrance, auxiliary gym, updated fine arts wing and additional parking spaces. Renovations also include high efficiency air conditioning and lighting.
"The school is designed using the Collaborative for High Performance Schools (CHPS) program, which sets standards and guidelines for energy efficiency and healthy learning environments," Flanagan said. "It's similar to LEED, but specifically developed for schools."
The exterior of the new building, expected to be completed by the end of 2019, will be clad in red brick, natural finish aluminum composite panels, a vine-covered trellis and limestone at the prominent south end.
"A new entrance pavilion puts a clear front door on the school and brings it up to the security and privacy requirements we've come to realize schools need," Flanagan added.
The new science wing has freed up space for larger art classrooms. Additionally, the new mechanical plant opened up space for a new gym.
"This building is for you," said Curry to the student body representatives in attendance at the ceremony. "It represents a significant investment in our current and future students and I am eager to see all the positive changes this will have on the future of Bishop Ireton."