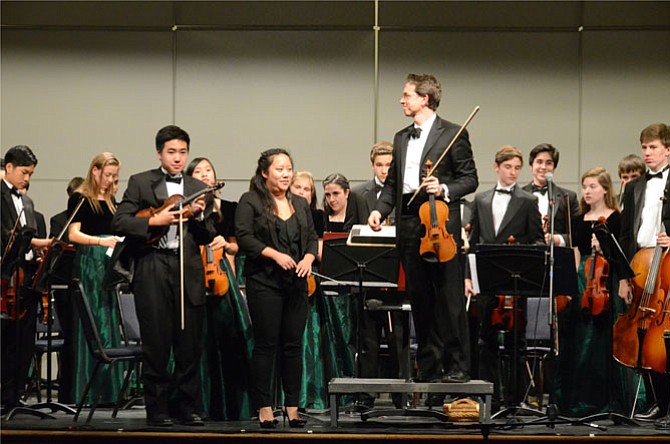 The Langley High School Orchestra performed its first concert of the year on Thursday, Nov. 20, in the Langley HS Auditorium. The "Evening in Vienna" themed concert was the perfect combination of presenting music and welcoming freshmen as new members of the orchestra family. Directed by Dr. Scott McCormick and Elizabeth Leung, Langley Orchestra enthralled the audience with music written by famous composers of Vienna, receiving a standing ovation from the full house. Ms. Leung made her debut as co-director of Langley Orchestra on Thursday, and students are excited to welcome her into the orchestra family.
Prior to the commencement of the concert, Langley students gathered together for a Viennese banquet, where students enjoyed authentic Viennese food catered by Café Mozart, famous for their plum cake. To supplement the experience, an accordion player performed Viennese music during the banquet. Orchestra parent Julie Hohl organized the banquet.
"The accordion player was fantastic and added a lot of ambience and energy to our Viennese banquet, where we could also bond with other members of the orchestra," said Rachel Wu, senior cellist.
The concert opened with pianist Theron Masters performing "Rondo from Piano Concerto No. 3" by Ludwig van Beethoven accompanied by the Symphonic Orchestra, followed by the "Egmont Overture," also by Beethoven. The Philharmonic Orchestra performed "Morning, Noon, and Night in Vienna" by Franz von Suppé where principal cellists Hailey Lee and Alex Lim performed complicated and beautiful solos. The students were excited to perform music from the infamous "Symphony No. 5" by Beethoven, especially since professional band musicians playing in the orchestra gave students the ability to do the epic symphony justice. The Langley Orchestra Society and Langley PTSA partnered to make the side-by-side format of professional mentors and students possible.
"Playing with a full orchestra was great because it enhanced our sound and allowed us to achieve a fuller effect in our music," said Kitty Ascrizzi, junior 2nd violinist.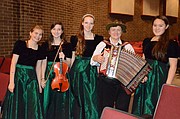 Lyric Yu, who recently won a state competition for piano, performed an interesting rendition of "Sonata in D Major" by Franz Joseph Haydn. The concert orchestra concluded the concert with a fantastic performance of "Allegro moderato from Symphony No. 29" by Wolfgang Amadeus Mozart, "Scherzo from Symphony No. 9" by Beethoven, and "Danube Waves" by Johann Strauss. Even though orchestra is an elective class, Langley orchestra students truly came together on Thursday and bonded as an orchestra family. Sara Zahir, President of the orchestra's honor society, was "unbelievably happy to see students from all grades intermingling and really coming together as the family we call ourselves. As the first concert of the year, [she] can happily say that the family is even stronger than in years past."
Langley Orchestra's next concert will take place on Tuesday, Feb. 17, 2015 at 7:30 p.m. at Oakcrest School.