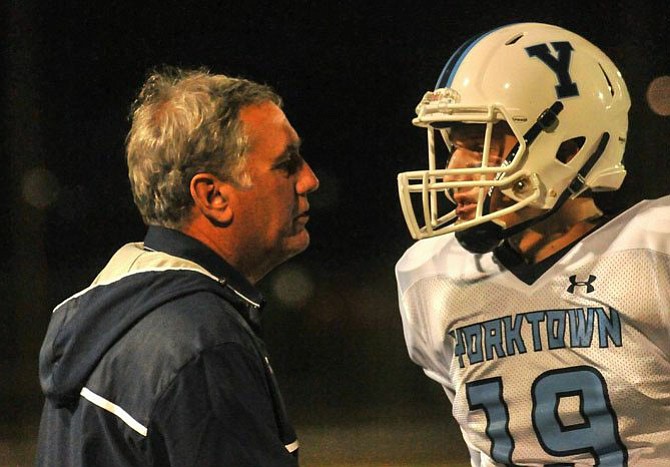 Yorktown senior Joe McBride was the starting quarterback for the football team in the fall before suffering a knee injury in the second-to-last regular season game. The honorable mention all-conference signal caller helped the Patriots win six games before sitting out the final two contests. Yorktown finished 7-4, won the Arlington County championship and qualified for the 6A North region playoffs.
McBride also plays basketball for Yorktown, but will miss some time while recovering from his injury. He is hoping to play football in college. He recently participated in a Q&A via email, sharing some insight about his Thanksgiving plans.
*Q: What are your plans for Thanksgiving?
McBride: My family and I are celebrating in town with friends and family.
*Q: Do you or your family have any annual Thanksgiving traditions?
McBride: We have a traditional holiday meal with family and friends. My dad makes candied yams from his grandmother's recipe. We listen to Frank Sinatra while my mom cooks because she says it reminds her of her grandmother. I love Frank Sinatra.
*Q: Does your family incorporate sports into Thanksgiving? If so, how?
McBride: We always have the Thanksgiving football games on near where we eat.
*Q: What is your favorite thing to eat on Thanksgiving?
McBride: Definitely the turkey. My mom knows how to cook a turkey. It's perfect every year.
*Q: You injured your right knee against Mount Vernon on Oct. 31. What was the official diagnosis you received? Will it cause you to miss any time in other sports?
McBride: The MRI I received on the Thursday before the Washington-Lee game showed that I had an MCL sprain. We were so anxious to see the results that my family and I took the MRI disc, put it in my neighbor's computer, and had my cousin, who is a radiologist in Pittsburgh, look at it through FaceTime on an iPhone. It sounds crazy, I know, but I just wanted to see the results as soon as possible. I needed to know if there was the slightest chance of being able to play in the Washington-Lee game on Friday (Nov. 7) and the playoffs the following week.
When I went to the doctor for the official diagnosis, he examined my knee and the lab report and said he felt that it was a "High Grade 2 Sprain." Thankfully, he said that surgery would not be required but that I would not be able to play for the rest of the season. The doctor prescribed physical therapy, and I have been doing it faithfully. The outlook is for a full and complete recovery. I will be out of sports until mid-to-late December, causing me to miss at least a couple of varsity basketball games.
*Q: What was it like having to watch your teammates play against Washington-Lee and in the playoffs and not being able to help them?
McBride: It was really tough. I got really emotional in the locker room before the Washington-Lee game because I wanted so badly to play in that game. It was for the Arlington Country championship, it was my senior year, and their players called most of us out in their video promo for the game. But, during that week of practice I did everything I could to help and prepare the team for that big game. Yorktown Football is a team, a program, a family — not one person, and the team rallied. We came out on top 28-3 and that was the best feeling ever, despite having to deal with the adversity surrounding my injury. I was proud of my teammates and how everyone stepped up to reclaim the unofficial Arlington championship.
The playoff game was rough. Our offense was stalling all night and it gave too much responsibility on our defense to stop a highly potent, fast-scoring offense in Patriot. I just felt so helpless; I tried to do everything I could on the sideline, but I knew that the only way I could have helped the team that night was if I was in there playing. It might have been a different ballgame, but you never know. Patriot was the better team that night and that is just the way it goes sometimes.
*Q: What are your thoughts on everything the football team accomplished this year?
McBride: I am really proud of my team. Like coach [Bruce] Hanson said in the postgame speech after the Patriot game, this team has faced so much adversity throughout the year. To come out with seven wins when we lost one of our best linemen, Noah Gaby, after the Hayfield game, and then losing me at halftime of the Mount Vernon game is something that not a lot of teams can bounce back from. However, our team is different.
We beat teams like a really good Chantilly team and finally got revenge on Washington-Lee. Not a lot of teams can pull that off. But we did and I would not change anything about this team or this year no matter what.
*Q: What are your college plans? Do you plan to play a sport in college?
McBride: Right now I plan to stay in-state for college, unless I get a great offer from an out-of-state school I really like. I definitely want to play football in college. More importantly, I want to receive the necessary credentials to become a high school history teacher, preferably at Yorktown, right out of college like my dad did, except he taught English at Swanson Middle School. He also played for Yorktown Football in 1985 during Coach Hanson's first year of coaching at the school. They weren't very good that year, and it's been fun for him to see how good the program has become over the years.
*Q: Who is your favorite music artist? Why?
McBride: This one is tough, but I am going to have to say Bruce Springsteen. I have been listening to his music since preschool. My mom would blast his music on our way to the school and I would be in the back trying to sing all the words. He is a great artist and a great live performer, too. He's also from Jersey, making him pretty cool to me. I love people from New Jersey.
*Q:: What is your favorite movie? Why?
McBride: "Grown Ups" with Adam Sandler, Chris Rock, David Spade, and Kevin James. It's my favorite because I love comedies and those four actors work so well together in it. It's also my favorite because I have a group of guys that are just like the characters in the movie and one day we were all watching and decided that, when we get older, get married, and have kids, that we would have a summer like the one in the movie because it would be so cool and so much fun.
*Q: What location is the farthest you have traveled from the Washington, D.C. area?
McBride: The farthest I have ever traveled from D.C. is to Middlebury, Vt., to visit Middlebury College with my father and grandfather. It was a 10-hour drive.
*Q: Who are your favorite pro sports teams?
McBride: I am a person who really takes pride in being from where they are, and so, being close to D.C., I have been a D.C. sports fan from the day I was born. The Redskins, the Wizards, the Nationals, and D.C. United are all my favorite teams.
*Q: Who are your favorite pro athletes?
McBride: Well, for football, it's Tom Brady. I study his game a lot, probably since I was a sophomore, and he is also such a great leader. He is one of, if not the, greatest quarterbacks of all time, and his story of being doubted by all the different college and NFL teams and winning three Super Bowls is something that I really like about him because I have always felt I have been doubted too, even by some of my classmates at school, when it comes to sports.
For basketball, even though I never actually saw him play live, it's Larry Bird. He was the toughest guy on the court at all times. He hustled, he could shoot, and he could pass so well. His personality is like mine too; a guy who, while still social, likes to stay in his own element and do his own thing with a tight-knit group of close friends. He also takes pride in his hometown, too, French Lick, Ind. I wear number 33 in basketball to show how much I admire him, "the Hick from French Lick."