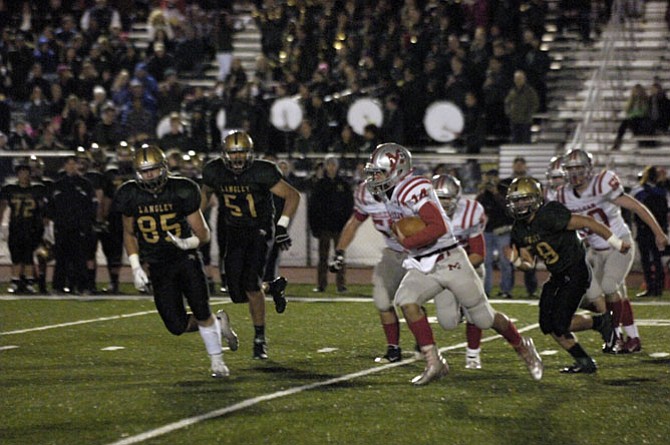 Brian Maffei started at quarterback for the McLean football team this season and helped keep the Highlanders in the playoff hunt down the stretch.
While McLean fell short of a postseason berth, finishing 5-5, Maffei left his mark on the 2014 campaign. He set a single-game state record with 42 completions against Herndon on Oct. 2, passing for 415 yards, with four touchdown passes and two interceptions during a 51-35 loss at McLean High School.
Maffei, who also plays soccer at McLean, plans to attend the Naval Academy next year. He recently participated in a Q&A via email with The Connection, sharing some insight about his Thanksgiving plans.
*Q: What are your plans for Thanksgiving?
Maffei: My brothers are coming home and we'll all go on a hike and watch a lot of football. We're also running a 5k together as a family.
*Q: Do you or your family have any annual Thanksgiving traditions?
Maffei: We always watch the parade and eat my mom's home-made cinnamon rolls. Afterward, we go on a hike. We also go as a family to feed the homeless in DC with a group called Sunday Suppers.
*Q: Does your family incorporate sports into Thanksgiving? If so, how?
Maffei: Well, we always watch a lot of football but we never really play. We've played Wiffle Ball games with some of our friends.
*Q: What is your favorite thing to eat on Thanksgiving?
Maffei: Definitely mashed potatoes and gravy.
*Q: The McLean football team narrowly missed the playoffs. What are your thoughts about how the season went?
Maffei: Obviously, I would have loved to go into the playoffs but I was extremely proud of everyone on the team. All the players came together and worked harder than I have ever seen in the program. We came together as a family and I'll cherish this season forever.
*Q: What is your favorite memory from playing football at McLean?
Maffei: It's hard to pick one memory from four years of such an amazing experience. But I would say my favorite moment was the homecoming game this year (24-21 victory over Fairfax). After such a crazy game it was so great being able to celebrate with all the boys.
*Q: What are your college plans? Are you planning to play football in college?
Maffei: I'm planning on going to the Naval Academy next year. I'm currently trying to play for the sprint football team there so we'll see how that goes. I would love doing that because they run a spread offense and I could fit in well.
*Q: Who is your favorite music artist? Why?
Maffei: Definitely Brad Paisley. I think he's such a down-to-Earth guy and he's really relatable.
*Q: What is your favorite movie? Why?
Maffei: "The Sandlot." I love the 1950s feel and the Americana in that movie. I always wished I could play baseball under the fireworks.
*Q: What location is the farthest you have traveled from the Washington, D.C. area?
Maffei: I went to Jackson Hole, Wyo., when I was 8. It was pretty cool to be cut off from the urban lifestyle I was used to. We got to see all the western lands on the drive to Wyoming, which was neat.
*Q: Who are your favorite pro sports teams?
Maffei: I love all the Cleveland teams because that's where my family is from. The Browns are my favorite, though - just because I love football.
*Q: Who are your favorite pro athletes?
Maffei: King James. I can't describe how happy I was when LeBron came back to Cleveland.