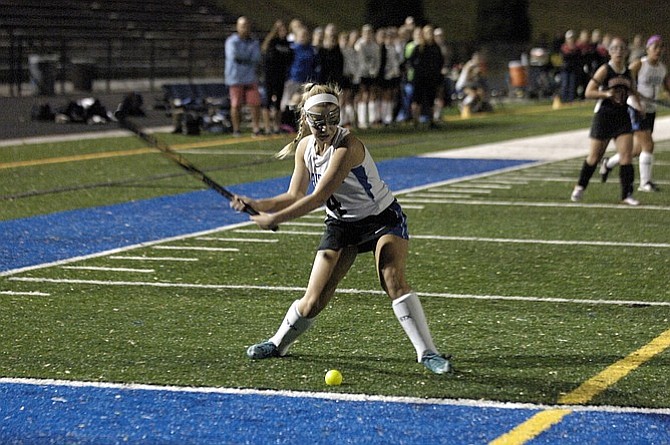 Charlotte Duke helped the Fairfax field hockey team reach heights it hadn't experienced in two decades.
The Rebels captured their first region championship since 1993 and qualified for the state tournament for the second consecutive season. Along the way, Fairfax won its sixth consecutive conference/district title.
Duke was a first-team all-conference and first-team all-region selection. She finished her senior season with 12 goals and 15 assists. Duke recently participated in a Q&A via email with The Connection, sharing some insight about her Thanksgiving plans.
*Q: What are your plans for Thanksgiving?
Duke: For Thanksgiving I will be going to visit my family in Pennsylvania, where we celebrate fairly traditionally.
*Q: What is your favorite thing to eat on Thanksgiving?
Duke: I'm a pretty picky eater so basically the only thing I eat on Thanksgiving is mashed potatoes and pumpkin pie, so I guess that makes them my favorite as well.
*Q: The Fairfax field hockey team won the region title and returned to the state playoffs. What are your thoughts on how the season went, overall?
Duke: The season went great overall. I'm so proud of our accomplishments and even though it could've turned out better, we all are beyond proud of one another.
*Q: What is your favorite memory from playing field hockey at Fairfax?
Duke: It's hard to pick just one memory as my favorite, but I would have to say winning the region this year was insane considering we haven't done so since 1993.
*Q: What are your college plans? Will you be playing field hockey?
Duke: I unfortunately won't be playing field hockey in college.
*Q: Who is your favorite music artist? Why?
Duke: My favorite music artist is The Weeknd, because his music is unique and I will never get tired of it.
*Q: What is your favorite movie? Why?
Duke: My favorite movie is "The Impossible" because it's one of the only movies that has ever made me cry.
*Q: What location is the farthest you have traveled from the Washington, D.C. area?
Duke: The farthest I've been from the DC area is to the US Virgin Islands.
*Q: Who are your favorite pro sports teams?
Duke: My favorite pro sports teams are the Pittsburgh Penguins and the Pittsburgh Steelers.
*Q: Who are your favorite pro athletes?
Duke: My favorite pro athletes are Sidney Crosby, RGIII, and Evgeni Malkin.