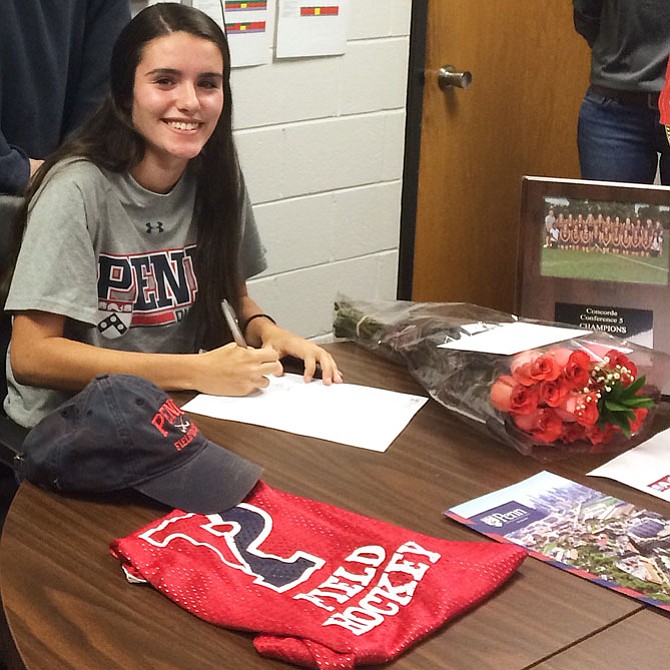 Field hockey is a major part of Sofia Palacios' life.
She was a four-year starter on the Herndon varsity team, helping the Hornets win the 2014 Conference 5 championship, the program's first conference/district title since 1979.
She plans to play the sport in college and recently made her choice of the University of Pennsylvania official by signing a letter of intent.
This week, Palacios will have stick in hand during Thanksgiving weekend.
Palacios, who totaled 24 goals and 30 assists as a senior en route to first-team all-region honors, recently participated in a Q&A via email with The Connection, sharing some insight about her Thanksgiving plans.
*Q: What are your plans for Thanksgiving?
Palacios: I am going to the USAFH Festival Tournament in Palm Springs with my club team.
*Q: Do you or your family have any annual Thanksgiving traditions?
Palacios: My parents are from England and I was born there so Thanksgiving isn't a really big deal in my family. All of our relatives live in Europe so I usually spend Thanksgiving with my parents and my sister. We don't really have any traditions except we do always eat the typical Thanksgiving turkey.
*Q: Does your family incorporate sports into Thanksgiving? If so, how?
Palacios: Yes, our Thanksgiving revolves around field hockey. The last two years we have been in Florida at the USAFH Festival Tournament. It's the biggest FH event in the world, attended by over 2,000 field hockey players from all over the USA and Canada.
*Q: What is your favorite thing to eat on Thanksgiving?
Palacios: Mashed potatoes covered in gravy, and turkey.
*Q: You recently signed with the University of Pennsylvania. What made Penn the right choice for you?
Palacios: It was hard to decide amongst the offers I had but in the end I chose Penn because it was the best combination of academics and sport. It is a world-class school that would give me so many opportunities paired with a great field hockey program. I really liked the coach and the other players when I visited. Since it is in the city it has great atmosphere and a buzz that really made me want to be a student at Penn.
*Q: At what point did you realize playing college field hockey was an option for you?
Palacios: My freshman year I went to a college showcase in Florida. Playing there and seeing the sidelines filled with college coaches watching the event made me realize if I worked hard enough that I could play in college.
*Q: What are your thoughts on everything the Herndon field hockey team accomplished this year?
Palacios: This team had so much potential coming into the season. Over the course of the season we accomplished so many of our goals and played some beautiful field hockey. Winning the conference championship and finally getting a title put the icing on the cake. Although it is sad that I will never play Herndon field hockey again, this season put the finishing touches on great four years.
*Q: Do you play any other sports at Herndon?
Palacios: My freshman and sophomore years I played varsity soccer.
*Q: Who is your favorite music artist? Why?
Palacios: My favorite music artist is Calvin Harris because his songs are really upbeat and fun to listen to.
*Q: What is your favorite movie? Why?
Palacios: "Citizen Kane" – it's a classic with a plot twist at the end.
*Q: What location is the farthest you have traveled from the Washington, D.C. area?
Palacios: Spain – it's where my Dad's family comes from and I go there every summer.
*Q: Who are your favorite pro sports teams?
Palacios: The professional sport that I follow religiously is soccer. My favorite team is Real Madrid.
*Q: Who are your favorite pro athletes?
Palacios: Luciana Aymar. She played on the Argentine national field hockey team and is an eight-time world player of the year. Also, as Washington sports fan, I like Bryce Harper and Alex Ovechkin.