Q&A with Suzanne Scholte
Q: What do you think are your top three accomplishments in your humanitarian work?
A: The continuous Defense Forum Foundation, started in the 1980s, raising awareness of Islamofascism, China cyber attacks, the vulnerability of our electric grid, all kinds of issues. I can say I've had Ted Cruz's staff and Nancy Pelosi's staff at my programs.
Getting passage of the North Korean Human Rights Act. That was unanimous, working with Democrats and Republicans.
Having people understand there is a pro-West Muslim democracy that has been established in Western Sahara. I've been very much involved with getting the recognition of their cause in Congress. I've had to battle against a huge lobby effort by the Moroccans.
Q: If you're elected, what be would your top three priorities as a congressman?
A: Fixes to health care, trying to correct the problems that have been created by the Affordable Care Act.
Pushing to reverse the Sequester cuts. It's just going to get worse; we're going to get more and more vulnerable.
Meeting our commitments to our fellow workers and to our veterans, being able to preserve the benefits that we've promised them.
Q: Give our readers three reasons they should vote for you on Election Day.
A: I will be a servant to the people of this district. I'm not running to be a politician, I would term limit myself right away.
I will work across party lines. Some of my Democrat friends are already talking about things that we can do that could really help.
I would be very reflective and understanding of people who live in this district. The family I rescued out of North Korea, who are now citizens, northern Virginians: No one understands the importance of having a government that serves you, that you don't serve, like they do.
Q: How would you show off northern Virginia to an out-of-town friend?
A: Restaurants! We have so many great ones. What kind of food do you want? Japanese, Bolivian, we have such a diverse culture.
Q: Tell us something you think people would find surprising about you.
A: I've taught kindergarten Sunday school since 1994. Everything I need to know I can learn from kindergartners, what's really true about life, just caring about other people. It's just a natural thing with children.
Q: Who are some of your heroes?
A: Ronald Reagan believed that you had to speak the truth, speak out, call things for what they are. He brought people together and gave them a vision. Another is Rabbi Abraham Cooper, associate dean of the Simon Wiesenthal Center in Los Angeles. He's a happy warrior, somebody who's positive in articulating what's happening in the face of horrific anti-Semitism.
Q: How you do relax, off the campaign trail?
A: Watching my youngest son play football with the Annandale Bulldogs. And watching the Redskins, because I don't want to bother anybody, I'm not going door-to-door, making any phone calls. The one time I feel guilt-free is during a Redskins game.
— Tim Peterson
Suzanne Scholte knows she has her work cut out for her. "This isn't a race anybody's thinking is worth looking at," she said at a meet and greet event in Montclair last weekend. "I think it was described as 'Quixotic.'"
The Republican candidate opposing incumbent Gerry Connolly for Virginia's 11th district representative seat was dressed in a grey suit with a colorful silk scarf draped around her neck. A hint of sweat glistened on her brow, perhaps due in equal parts to the warm afternoon in late September and the "crazy" schedule of campaign events she's undertaking: This was the second of three for the day.
"I have the disadvantage," said Scholte. "I'm not a politician, I've never held a political office. I'm trying to do everything I can to be everywhere I can, talk to everybody I can."
The meet and greet took place at the home of Janet Gorn, a state department employee and president of the Kings Highway Republican Women's E-Club. Since she's known Scholte, Gorn has been impressed by "her sincerity, her energy and that she really wants to make a contribution to not only a local community, but to our country."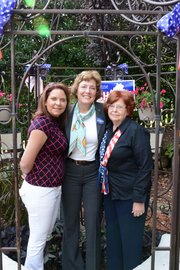 SCHOLTE, a wife and mother of three young men (two are graduates of J.E.B Stuart High School and active duty military, and one attends Immanuel Christian School), has been going door to door, visiting a different church, synagogue and mosque every Sunday, and holding town hall meetings. And at every turn, she's trying to solicit communication and feedback, whether for or against her.
"We don't screen who comes," said Kelley McLean, who has worked with Scholte on the North Korea Freedom Coalition, a nonpartisan human rights advocacy group Scholte founded, and currently chairs, in 2003. "First we have commenting, then open the floor up for questions. We've had people yelling at her and she says, 'That's great, tell me.'"
When Scholte decided to run for Congress, she asked McLean to come along as her coalitions director and assistant.
"At first I thought my job was going to be scary," McLean said. "I thought I was going to be that 'body person' that if someone doesn't agree with them I'm supposed to pull her away from it. She's not like that. She says 'No, I want to talk to that person. Let's talk, sit down, see what we can work out.'"
Despite not holding office herself, Scholte has spent plenty of time around Capitol Hill. She was the youngest chief of staff on the Hill while Ronald Reagan was in office and as president of the non-profit Defense Forum Foundation for almost three decades, coordinates that group's nonpartisan Congressional Defense and Foreign Policy Forums in Washington.
"What motivated me to run is that my work has always been about working across party lines to get things done," Scholte said.
Though she was born in Connecticut, Scholte's family moved to Virginia when she was very young. She's been a resident of northern Virginia since the '70s and graduated from Loudoun County High School.
Her previous work, and that of the Defense Forum Foundation, focuses on promoting strong national defense, freedom, democracy and human rights abroad. In particular, Scholte has spent considerable time and effort working to liberate people in North Korea and Western Sahara.
Various human rights organizations rank those populations as some of the most persecuted people in the world.
"She's the lady that, if she sees something's on fire, she's going to go do whatever it takes to go put it out," said McLean. "She runs towards it."
"She's strong and courageous," said Bill Card, the chairman of the Prince William County Republican Committee. "She's faced down dictators, she can certainly face down her peers in Congress when she gets there."
It was working with members of both parties in Congress that helped Scholte get the North Korean Human Rights Act of 2004 passed. "That was a classic example of what you can do when you want to get things done," Scholte said. "I compromised with my Democrat friends."


THE LAW lays out specific ways for the United States to help North Korean refugees. Scholte's role in its passage and her continuing advocacy work has helped her earn a number of humanitarian accolades, including the 2008 Seoul Peace Prize and 2013 Order of Diplomatic Service Sungnye Medal, the government of South Korea's highest award for a non-Korean.
Kang Seo is an external relations associate and translator for Free North Korea Radio, and has worked with Scholte as "a mouth for her to speak Korean" each time the candidate has visited Seoul over the past three years.
"The impression I got was she loves people a lot, she cares," said Seo. "Whether you know them or not, it doesn't matter. Any time she meets with people, she wants them to engage with her, talk with her. She wants to listen to their stories. That kind of thing attracts people."
What friends and colleagues of Scholte describe as her "personable," "sincere" and "energetic" nature, Seo said has helped Scholte affect Koreans on their own human rights issues.
"She's the one that brought ourselves back to engage with that problem," said Seo. "Her concern and her heart actually surprised me the most when I first met her."