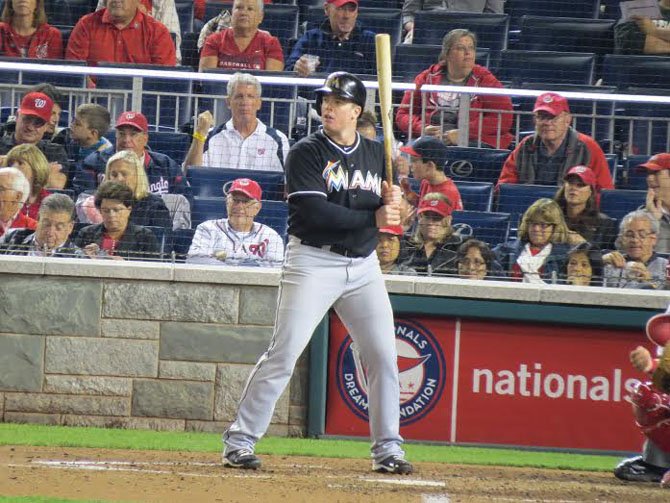 A pair of Westfield graduates had recent standout performances in their respective professional sports.
Miami Marlins infielder Justin Bour, a 2006 graduate of Westfield High School, went 3-for-4 with a trio of doubles in the second game of a doubleheader against the Washington Nationals on Friday, Sept. 26 at Nationals Park. Bour had two RBIs and scored four runs.
Miami won the game, 15-7, and totaled 22 hits.
Bour, who played college baseball at George Mason, reached the Major Leagues for the first time season at the age of 26, making his debut on June 5. He appeared in 39 games in 2014, batting .284 (21-74) with one home run and 11 RBIs. He had three doubles and scored 10 runs.
Miami finished in fourth place in the National League East with a 77-85 record.
Tampa Bay Buccaneers quarterback Mike Glennon, a 2008 Westfield graduate, led the Bucs to their first win of the season on Sunday, Sept. 28 in Pittsburgh.
Glennon completed 21 of 42 passes for 302 yards and two touchdowns, including a late scoring toss to Vincent Jackson in the game's final seconds, to beat the Steelers, 27-24.
Tampa Bay drafted Glennon, who played collegiately at North Carolina State, in the third round of the 2013 draft. He eventually became the team's starter during his rookie season, but started the 2014 campaign as the back-up after new head coach Lovie Smith brought in veteran Josh McCown to start. McCown went down with a hand injury in Week 3, and Glennon came on to complete 17 of 24 passes for 121 yards and a touchdown during a 56-14 loss to Atlanta.
Glennon got the start against Pittsburgh, and led Tampa Bay to victory. The Buccaneers are 1-3 and tied for third in the NFC South.
For the season, Glennon is 38-for-66 with 423 yards, three touchdowns and an interception.
Tampa Bay will travel to face the New Orleans Saints at 1 p.m. on Sunday, Oct. 5.