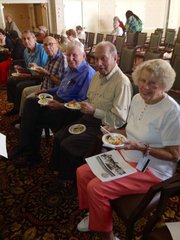 Grace Delaune nibbled on striped bass and quinoa salad, pondering the flavors and textures of each dish. Myke Hammaker savored the miso cod and spinach. The two women weren't simply having lunch. They were judges at the Senior Eats Nutritional Challenge in Fort Belvoir last week. "The food challenge was a lot of fun and the food was excellent. Every dish was beautifully displayed and cooked perfectly," said Hammaker. "It was hard for the judges to pick the best dish although I picked the Miso Cod with Spinach because it really stood out as a fantastic dish."
Winning Recipe: Miso Cod and Spinach

Miso Brushed Cod with Sautéed Spinach

by Floyd Stephen, Brighton Gardens of Dunwoody

Serves 6
"The five selections were just outstanding. It was very difficult to pick the best dish, although my favorite was the Striped Bass with Quinoa Salad," added Delaune.
The winning recipe was Miso Cod with Spinach. During the competition, which was sponsored by Sunrise Senior Living headquartered in McLean, Va., and held at The Fairfax, a Sunrise community, five of the company's top chefs prepared their healthiest dishes, making use of only fresh, local ingredients. A panel of Sunrise residents judged the chefs' creations. One of the goals of the competition was to break negative stereotypes about the quality of food served in retirement communities.
"All of our finalists did an incredible job creating meals that could rival our country's top restaurant chefs," said Tim Whelan, vice president, Dining Services for Sunrise. "We constantly look at ways to provide more variety for our residents to enjoy, and the Nutritional Challenge is a great way to add unique, healthful dishes to our menus."
The chefs were judged on their ability to meet Sunrise's Signature Dining criteria, which includes using fresh, seasonal ingredients. After the competition chefs and residents discussed the recipes used, nutritional needs of seniors and the role that eating healthfully can lead to better cognitive functioning, memory and heart health.
"Our goal… is to give our residents delicious and nutritional food with real variety each day," said Lawrencia Quaye, Executive Chef at The Fairfax.
None of the five chefs who made it to the finals competition were from the Washington, D.C. region. The winner Chef Floyd Stephen of Dunwoody, Georgia, was named the Sunrise Signature Chef and received $1,000.
1 1/2 lbs cod filets, 4 oz each

6 tbsp olive oil

3 shallots, peeled / minced

3 garlic cloves, peeled / minced

1 1/2 lbs shiitake mushrooms, stemmed / julienned

1 lb stemmed fresh spinach

1 1/2 cups chicken stock

1/4 cup miso paste

Steam the fish for 7 minutes, until internal temperature reaches 145˚F for 15 seconds.

While the fish is steaming, heat the olive oil in a sauté pan over medium heat. Add the shallots and garlic. Sauté until soft. Add the mushrooms and cook until the liquid evaporates. Add the spinach and sauté for 1 minute to wilt. Turn off the heat and set aside.

Bring the stock to a boil in a separate pot. Whisk in the miso paste. Simmer for 5 minutes.

Divide the spinach mixture evenly between serving dishes. Place fish on top of the spinach. Spoon miso sauce over fish. Serve immediately.

All of our finalists did an incredible job creating meals that could rival our country's top restaurant chefs,"

— Tim Whelan, vice president, Dining Services for Sunrise