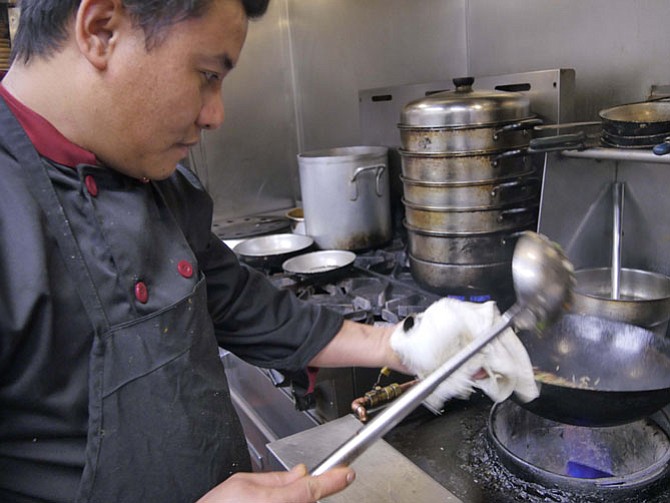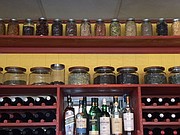 Exotic smells greet your nose as you open the door to Royal Nepal at 3807 Mount Vernon Ave. Walk into a different world with jars of green cardamom, cinnamon sticks, yellow dal and bay leaves lined on the top shelf above the bar and a row of jars of tea underneath including jasmine pearl, lemongrass and silver yeti from the high mountains in Nepal, organic, very healthy. A large screen hangs on the wall showing mountain climbers trekking through the peaks of Nepal.
Chef Subash Rai is making Classic Royal Nepali Thali, a dish with four different condiments plus a meat choice (today it is goal intestines) and basmati rice topped with a fried egg. He heats a small splash of Mazola oil in a small skillet. Rai starts another small skillet on the burner in the middle. Shallots begin to sizzle in the first skillet and are joined by two scoops of umbrella mushrooms seasoned with rosemary, sage, tarragon and parsley. "They cook to 160 degrees."

In the next skillet Rai adds minced garlic and shallots and goat intestines already seasoned "with garam marsala and a lot of spices." A couple of minutes and in goes the onion gravy. Rai tosses a small chunk of butter in both skillets "for texture and some moisture," and covers the goat with an upside down skillet to cook it faster.
Rai reaches to the back burner and stirs the basic sauce in the 60-gallon pot with a long handled spoon. "It is 50 pounds of diced onions and 50 pounds of diced tomatoes and spices. This sauce is used for everything."
On another burner he heats duck fat for an order of duck fried rice with about two ounces of shredded duck meat cooked until brown and crispy. Then Rai adds chopped garlic and shallots and two handfuls of sliced onion. Some stirring and in goes a shredded slaw of cabbage, red peppers, and carrots. Rai tosses the mixture in the air to turn it over. Once, twice. To finish it off, he adds a hearty portion of basmati rice with two splashes of oyster sauce and two more of Maggi seasoning.
"Now we'll make the sautéed spinach." Another skillet. Simple and quick. He adds chopped garlic and shallots, a large handful of fresh spinach, a small chunk of butter and a sprinkling of kosher salt. The spinach wilts quickly. A quick toss in the air and it sits ready to plate. Ready on another burner are black-eyed peas with bamboo shoots and chunks of red potatoes cooked with chopped scallion and cilantro. "Next I show you the plating."
Rai arranges five small burnished bowls on a thin, narrow platter "for the condiments." First the homemade pickles, then the black-eyed pea combination, the sautéed spinach, the herbed mushrooms, and finally the crispy goat stomach and intestines, each with a small spoon. A large platter of basmati rice topped with a fried egg is placed on the table alongside with a big spoon for combining a mouthful of rice with a condiment.
Rai says a customer favorite is the lamb chops with homemade yogurt, and of course, a lot of spices including green cardamom, chili peppers, cumin, cinnamon sticks and bay leaves. "In our country bay trees grow to be really tall," he says pointing to the ceiling. Another favorite is the Mo Mo, a dumpling stuffed with meat and served on a long platter with a spoonful of green Szechwan pepper tomato sauce on one end and red tomato sauce with nuts on the other "for a choice."
Rai was born in Nepal where he was a cook, but came to the United States to grow into his passion. "It makes me happy." But when he came to the U.S. he worked cleaning because "nobody knew I could cook — new place, new thing." But his friend working in D.C. offered him a job helping in a restaurant. Then Rai worked at the Fairmont Hotel for 6 years and has been at Royal Nepal for nearly a year.
So, back to the next order of chicken with puffed rice. "Cooking is my passion."