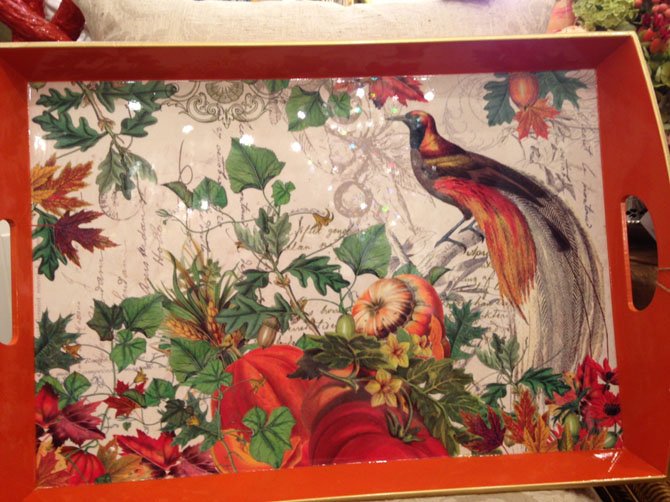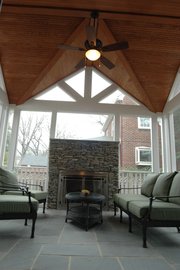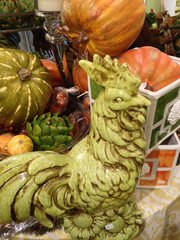 As the air turns crisp and we settle into fall, the time is ideal for creating a cozy setting, whether it's elegant or rustic or modern. Many people have adapted part of their landscape as an outdoor room.
"Outdoor porches whether screened or just covered with a roof are great fall spaces," said Susan Matus, a Potomac, Md.-based architect. "One can cozy them up with pillows and throws and outdoor lights, such as decorative twinkle lights or candles can create great ambiance."
Local designers reveal their favorite accessories and ideas for outdoor rooms and screened porches to help welcome the new season with style.
An outdoor fireplace commands attention and can offer a warm place for reading, napping or chatting with friends, and makes it comfortable to sit outside on a chilly evening.
"Indoor-outdoor rugs and seating in fall colors make the space great for entertaining."

— Robert Kalmin of Skill Construction and Design
"I just built a stunning fireplace in a screened-in porch that transformed the space into a three-season room just in time for fall," said Robert Kalmin of Skill Construction and Design, LLC in Fairfax, Va. "Indoor-outdoor rugs and seating in fall colors make the space great for entertaining."
When it comes to outdoor fireplaces, however, there are a few caveats: "If it is a screened in porch, be careful of your ventilation. Whether you have a gas or wood-burning fireplace you have to have noncombustible material for the mantle and it needs to back discharge for smoke," said Kalmin. He says such fireplaces can be added to an existing space in one-to-two weeks.
Accessories in warm, vibrant colors can help can transform an outdoor room from summer to fall. "Adding some cozy throw blankets to outdoor sofas allows you to stay outside on chilly nights," said Kerra Michele Huerta of Apartment Envy. "Also, as it gets darker and cooler earlier in the day, candles are a perfect accessory, adding both warmth and light."
Scented candles can add an aroma of fall. "There are fabulous new pumpkin chai-scented candles by Nast Fragrance of New York that are wonderful," said John Brown of J. Brown & Co. in Old Town Alexandria, Va.
In fact, lighting can transform a screened porch or outdoor room. "To a screened porch, you can add a ceiling fan with a down light and an up-light," said Kalmin. "The higher light can give you general lighting and the lower lights can create ambient lighting, and can be moved in different directions for setting a mood. There is also a mono-rail track system lighting, where you can install different types of lights depending on the mood you want to create."
Whether real or faux, fall produce can also add a seasonal touch to an outdoor room or screened porch, particularly on the mantle or around the hearth. "You can add faux pumpkins, gourds and berries," said Brown. "Squirrels don't like the taste of those."
Don't forget serve wear, particularly when entertaining. "There are trays to carry coffee, tea, dessert in fall colors with fall leaves and birds with pumpkins," said Brown.
Matus suggests a finishing touch for outdoor spaces. "Another option is to hang drapery to create not only a more interior feeling but also drapery can be used to shield from the wind as a thermal barrier," she said.