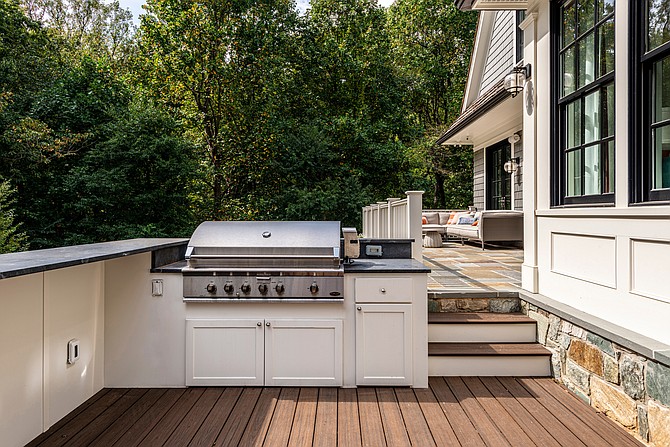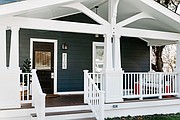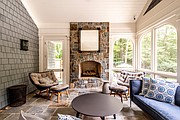 A longing to spend more time outside after a year-and-a-half spent inside is driving a trend in home design, including an uptick in requests for projects like screened porches and patios.
"This past year, homeowners were interested in creating gathering spaces that offered opportunities to be outside, said designer Susan Matus. "I think that we will continue to see the interest in screen porches grow as many spent more time outdoors during the pandemic."
When owners of Cabin John, Maryland residence decided to update their front porch, they tasked designer Maria Fanjul of Cabin John, Md. firm Anthony Wilder Design/Build with the job.

"Because it was an older home, we had to stay within the existing porch's footprint," she said. "In order to draw the eye up, we centered the porch's stairs to align with the front door, raised the porch's roof to allow more natural light into the space and the home, and curved the wood along the gable of the porch's roof."

The space's crisp white columns contrast with the home's deep blue tone, outfitted with neutral furniture. Throw pillows and a rug in bold shades of indigo and yellow add another burst of color. The overall look is clean and calming. "The owners now have a brighter porch to enjoy," said Fanjul.

While designing a new, custom home in McLean, Va., architect Rolando Valdez created a back porch that offers a seamless transition from the home's interior to its natural surroundings. "There are arched openings that mimic those found inside [and] provide a clear look at the pool and patio beyond, '' said Valdez of Bethesda firm GMT Architects.

The space is consistent with the overall style of the home which was inspired by those found along the New England coast. "The porch embraces the colors of the home's pastel blue shingles and white trim," said Valdez. The space is outfitted with vaulted ceilings, a floor-to-ceiling stone fireplace and flagstone floor that leads to the deck with built-in grill.

When adding a porch to an existing home, Matus and architect Vicente Neto, both of Case Design/Remodeling, worked to create a space that was compatible with the style of the home's interior while also offering views of the wooded backyard.
"We wanted the porch to be accessible but also not block views from the dining room, kitchen or bedrooms on the second floor," said Matus. "The porch can be entered directly from the family room."
"Homeowners now realize how valuable and special the additional gathering space of a porch really is."