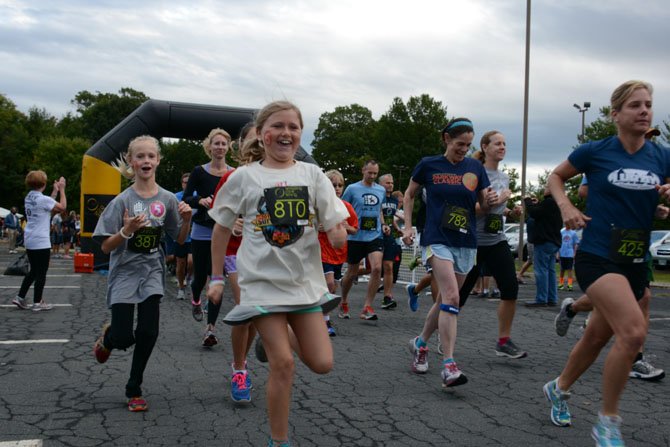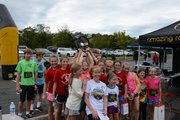 Robin Wallin of Alexandria has been training for this day at Cameron Run Regional Park for three months. She and sister-in-law Carolyn Wiser of Baltimore used a seat-to-5K app on their smartphones to prepare for the Oct. 4 race, encouraging each other through Facebook messaging.
But much more than for the exercise, Wallin was here to support her friend of 17 years and fellow Alexandria City nurse Robin Thompson. Thompson's daughter Ashley Renee Thompson died in a car crash on June 10, 2003.
"Anybody who has a teenager who's learning how to drive knows the anxiety of the parent," said Wallin. "And I certainly walked through that with Robin too."
Ashley was a sophomore at Lake Braddock Secondary School: a strong student, dedicated competitive gymnast and licensed driver. One day she borrowed a friend's car to drive home from school, lost control of the vehicle within a mile of her house and slammed into a tree. She died on impact.
CRASH INVESTIGATORS ruled out alcohol, speed, phone and other passengers as contributing factors. Ashley was a skilled driver, but her training and experience hadn't prepared her to regain control of an unfamiliar vehicle.
Robin Thompson created an awareness, training and advocacy organization in honor of Ashley called The Art of Driving. She's spent the last decade on a mission to elevate conversation that youth crashes are both predictable and preventable.
That's where the "Survive the 5" in the race's title comes in. It's a reference to the top five reasons for teen crashes and injuries: Driver inexperience, driver distractions, excessive speed, not wearing a seatbelt and alcohol and illegal drugs.
"It's not a topic a lot of people want to talk about," said Thompson, buzzing around her organization's first annual 5K like a master hostess. "Getting people to understand just how serious a problem is, that it is truly an epidemic. This is not a transportation issue; it's a public health issue."
Where previously the CDC had listed car crashes as the leading killer of adolescents aged 15-19 (between 3,000 and 4,000 deaths annually), that figure was updated last month to show crashes are the single leading cause of death and injury among all youth.
Thompson had wanted to do a 5K for years to help raise awareness of the issue and increase the reach of The Art of Driving's program of awareness responsibility training for teenage drivers and their parents, and work with school groups and civic organizations. Finally a year ago, Thompson began attending 5Ks and simply taking notes.
"I just started putting it together, piece by piece," Thompson said, "and I have an awesome community behind me that believed in the cause. I think from the looks of this morning, we did it."
267 RUNNERS AND WALKERS of all ages, shapes, sizes and dog breeds came out, including a strong contingent of teachers and students from George Mason Elementary School. "She took such a personal and tragic thing in her life and turned it into a positive," said Laura Aristizabal of Fairfax. "Her daughter is still living. How many lives is Ashley going to touch through her mom? It's incredible."
"If by keeping Ashley's memory alive today I just keep one child alive, then it's all worth it," said Thompson. "That's what this is all about. Keeping our children safe."
For more information about Ashley's story and The Art of Driving programs, visit www.theartofdriving.org.