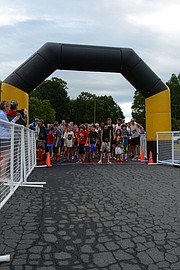 Robin Thompson's daughter Ashley Renee was a sophomore at Lake Braddock Secondary School when she died in a car crash on June 10, 2003. She had borrowed a friend's car to drive home from school and slammed into a tree after losing control of the vehicle. She was within a mile of her house. Investigators concluded alcohol, speed, cell phone and other passengers weren't factors in the accident, but that she likely lacked experience and training.
Robin started the Ashley Renee Thompson Memorial Foundation and outreach organization The Art of Driving to raise awareness about preventing youth crashes like Ashley's. Last year was the first 5K road race she organized to help elevate the conversation.
"It's not a topic a lot of people want to talk about," Thompson said at the 2014 event. Her goal is "getting people to understand just how serious a problem is, that it is truly an epidemic. This is not a transportation issue, it's a public health issue."
The race's "Survive the 5" title comes from the top five reasons for teen crashes and injuries: Driver inexperience, drive distractions, excessive speed, not wearing a seatbelt and alcohol and illegal drugs.
The 2nd annual Art of Driving "Survive the 5 5K" is scheduled to take place at 9 a.m. on Saturday, Oct. 3. The venue is Great Waves Waterpark at Cameron Run Park in Alexandria. For more information, visit www.theartofdriving.org.