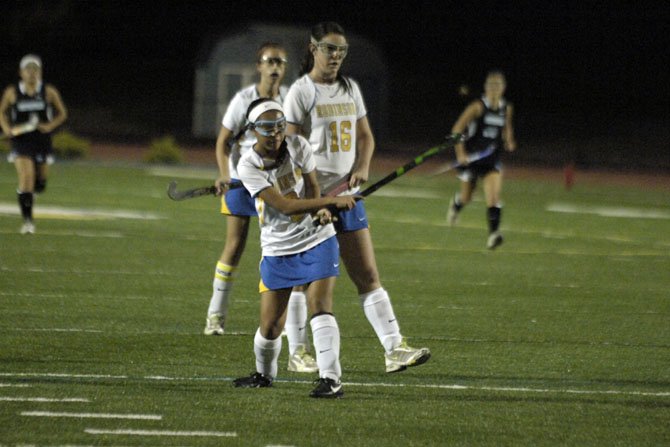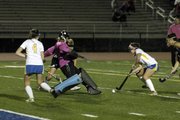 Centreville goalkeeper Kylie LeBlanc has a bright future, finishing her sophomore season with 160 saves.
On Monday, however, it was Robinson goalkeeper Caroline Freeman who walked off the field with a clean sheet and an opportunity to play another day.
The Robinson field hockey team defeated the Centreville Wildcats 3-0 in the win-or-go-home quarterfinal round of the Conference 5 tournament on Oct. 20 at Robinson Secondary School. Both Freeman and LeBlanc entered the contest in the top five for saves in the Washington, D.C.-metro area, according to stats from the Washington Post's allmetsports.com. The Rams and Wildcats were locked in a scoreless tie in the second half before Robinson scored three goals in a span of five minutes, including two against LeBlanc.
Robinson's Addie Walsh scored the game's first goal with 20:35 remaining in the second half. Katie O'Loughlin found the back of the cage less than two minutes later, and Charlotte Clark put the finishing touches on the 3-0 win.
"I think once we got that first goal," Rams head coach Lindsay Arnsmeyer said, "they just calmed down."
LeBlanc tallied four saves and finished the season with 160, the third-best total in the area.
"She's aggressive," Centreville head coach Demby Banbury said. "She is not afraid. And if you look at her, she's constantly ready. Even if the ball is [at the other end of the field], she's never just standing there. She's always focused and she's only a sophomore."
Freeman, a senior, had three saves and sits in fifth with a 114 and an opportunity to add to her total.
"[Freeman has] been amazing," Arnsmeyer said. "She is one of my key players on defense. She's explosive. I think she's the top goalie in the area."
Freeman, a soccer player at the time, became a field hockey goalie her freshman year. Her comfort level grew after a couple seasons and now she wants to play field hockey at the collegiate level.
"I was just sort of thrown into the position," Freeman said. "… I was a soccer goalie and my teammates needed a [field hockey] goalie for freshman year because they didn't have one. They said it's just like [playing] soccer goalie. It wasn't. It was a new thing. I got more comfortable in the pads to the point where soccer goalie became hard to play because I wasn't comfortable without pads."
Arnsmeyer said Freeman has taken control during her senior season.
"Last year, she was a little timid with some of the things that she did," Arnsmeyer said. "She wouldn't come out as much. Now, she just commands the circle. It's her circle and she doesn't want anyone to be in it. She makes sure all her teammates are being aware of what's going on, too.
"… Her communication at the beginning of last season was terrible and that was the main thing that we focused on, that she needs to be talking the whole time. Now, you can always hear her."
LeBlanc, who started playing field hockey in the third grade, was a field player until the eighth grade.
"My SYA team needed a goalie and my coach asked if anyone wanted to try it," LeBlanc wrote in an email. "I always thought it would be a fun position to play so I volunteered to try it."
How long did it take LeBlanc to get comfortable playing goalkeeper?
"About two months," she wrote. "I had two great goalie coaches, Jen and Steph Wisniewski, at Rampage (club) that took me under their wings and really helped me understand and develop skills in the position."
LeBlanc saw limited playing time as a freshman before stepping into a starting role as a sophomore.
Banbury called LeBlanc a "tough cookie."
"I'm very fortunate to have her," Banbury said. "She just gets better and better and better. [She's very good at] reading the angles. I think she's very agile in the cage. She's a good field general for me in terms of reading the defense and telling the girls when they need to play post, when they've got to mark up, if they need to come back, watch the middle [and she has] great eyes back there."
The victory advanced Robinson (14-3) to the conference tournament semifinals and earned the Rams a berth in the 6A North region tournament. Centreville's season ended with a 4-11-2 record.