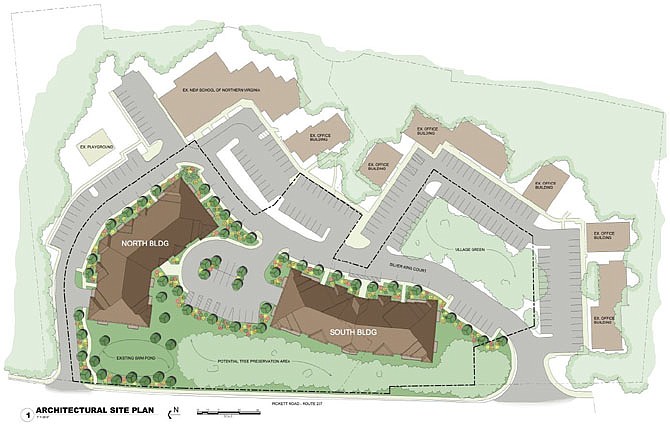 Nearly four acres of the Mantua Professional Center on Pickett Road are available for development, and the IDI Group Cos. hopes to build 80 condos there off Silver King Court. Details of the plan were presented during the Oct. 7 work session of the Fairfax City Council.
The site's zoned commercial planned development, meaning both office and condo uses may exist there. And the 3.8 acres on which IDI wants to build are currently vacant and, for the most part, heavily wooded.
"Instead of the 55,000 square feet of office space that could be built there, the applicant is proposing 80 condo units in two, four-story buildings," explained Paul Nabti, the City's senior planner. "There'd be underground parking underneath each building," plus a small surface lot and other parking spaces.
OPEN SPACE would be preserved, and 317 total parking spaces would be provided – 270 for the residents and the rest for the existing offices. The site currently has 181 spaces, plus some office buildings and the New School of Northern Virginia.
"The Comprehensive Plan recommends retail, office and hotel or mixed uses, but Pickett Road has recently become more residential," said Nabti. "Some issues to consider are the parking-space location for the existing businesses, off-site stormwater impacts and shared maintenance [of the site]."
To move forward with its plans, IDI needs City Council's approval so it may obtain the needed General Development Plan and Comprehensive Plan amendments, plus a potential zoning-text amendment.
"Our company was founded in 1975," said IDI Vice-President and counsel, Enrico Cecchi. "This would be our first project in the City of Fairfax." He also noted that his father developed the Watergate and other condo communities in the Washington Metropolitan area, as well as mixed-use projects including the Rosslyn and Ballston metro centers.
Basically, he said, "This is a redevelopment of the Mantua Professional Center." And although the site was previously approved for five other office buildings, he said they're "not economically feasible" now. "The recent activity around this area is compatible with residential," said Cecchi. "So we're proposing to replace the five office buildings with two condo buildings.
These condo buildings would be constructed on the area formerly envisioned for three of the office buildings. The land on which the other two office buildings would have been constructed will, instead, be preserved as open space. It would become a village green to be enjoyed by the residents, school and existing-office community.
"There's a lack of condo development in this part of the City," said Cecchi. "So this plan creates a desired, mixed-use environment. And because of the open-space preservation and reduced number of parking spaces needed, the amount of impervious surface would be significantly reduced."
Jim Heffner of Heffner Architects said the condo buildings would have pitched roofs and differing roof planes to make them more visually appealing. And, he added, "We can save some of the trees to provide a nice screen between the road and the buildings."
Attorney David Houston, representing IDI, said the applicant will need a special exception to change from the current four units per acre allowed to 21 units per acre. The parking ratio would also need to shift from two spaces per unit to 1.6 spaces per unit.
"I'm pleased that you have a very solid reputation and do great products," Mayor Scott Silverthorne told Cecchi. "This is conceptual – to determine whether you'd like to move forward with creating some residential uses along the Pickett Road corridor."
Councilwoman Ellie Schmidt liked the concept of condos, rather than apartments, plus the tree preservation. However, she added, "We have some water-management issues in that part of town, so I urge you to pay attention to that."
Councilman Jeff Greenfield thanked Cecchi for his interest in developing here. "It seems like a lot for that small area, so size and scale will be important, as will high-quality building materials," he said. Greenfield also asked if the existing buildings would receive a "facelift," and Cecchi said it's not part of the plan, but is something IDI could look at.
"Stormwater management is critical," said Councilman Michael DeMarco. "There's currently a right [turn] into the site and a right out. Will there be a left out, going south onto Pickett?" Houston said yes, adding that the entrances and exits won't change.
"I also endorse the condos on this site," said Councilman David Meyer. "You should maximize the high-end architectural elements of these buildings, plus the advantages of the site, and be careful not to remove too many trees."
AGREEING, Councilwoman Janice Miller called the project "intriguing" and said Fairfax needs more condos. She also asked about the size and number of bedrooms the units would have. Cecchi said they'll be 1,200 square feet; about 20 percent will be one-bedroom; 60 percent, two-bedroom and 15-20 percent, three-bedroom.
"You all have the green light to proceed," said Silverthorne. "I think there's an opportunity for a phase two, should it work and sell well." Regarding the architecture, though, he said, "I'd like to see something a little bit more contemporary or blending well with Pickett's Reserve and Barrister's Keep and flowing well toward Fairfax Circle. The density's great and will blend well with the adjacent, residential neighborhoods."