A Burke native and 2003 Thomas Jefferson High School for Science and Technology graduate, is serving in the U.S. Navy as part of a hand-picked crew charged with bringing the Navy's newest aircraft carrier into service.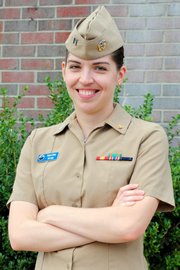 Lt. Barbara Colberg, who joined four years ago, is the deputy command judge advocate aboard Pre-Commissioning Unit Gerald R. Ford (CVN 78), the first ship in its class and the successor to the Navy's Nimitz-class aircraft carriers that have been in operation for the last half century.
Colberg, who followed in her father's footsteps by joining the Navy, and the rest of the 1000-Sailor crew are slowly bringing the ship to life, a crew that will eventually grow to more than 4,500 when the ship is at sea. When complete, the aircraft carrier, powered by two nuclear reactors, will measure more than three football fields long at 1,092 feet in length and will weigh more than 100,000 tons. It will be capable of sailing at nearly 35 mph and will carry more than 75 Navy aircraft.
"Lt. Colberg plays a vital role in preparing our Nation's newest and most technologically advanced warship for sea," said Ford's Commanding Officer, Capt. John F. Meier. "We have the opportunity to build this command with the ideals of our namesake and we are creating the command climate and a culture of excellence that we have always wanted. This crew is setting that standard, a standard that will last for the 50-plus year life of the ship."
AS ONE OF THE SAILORS who will commission the ship, Colberg has the opportunity to see firsthand the innovations being incorporated into the design of the ship; from a redesigned flight deck to allow for more efficient aircraft operations to equipment that requires less maintenance.
As the crew grows and works toward the goal of joining the fleet in 2016, Colberg and other Gerald R. Ford sailors will be accepting spaces on the ship, training to operate it and building a legacy that will last beyond their lifetimes.
Training for the crew has to come from some unique sources. There are no Navy schools for some of the new equipment, so the crew is partnering with Huntington Ingalls Newport News Shipbuilding and other vendors to master the new systems.
"This is a unique opportunity to see first-hand how the systems are installed and tested, which is an advantage that future crews won't have an opportunity to experience," said Meier. "Lt. Colberg and her shipmates are becoming the subject matter experts. They are working hand in hand with the shipyard throughout the testing phase and in turn teaching the Navy how to operate this new class of aircraft carriers."
COLBERG said it is an exciting time to be in the Navy, helping to build a crew and a ship from scratch, something she never expected to be doing just a couple years ago. She also said she is proud of the work she is doing to help commission and man the Navy's newest aircraft carrier. As a 28-year-old with numerous responsibilities, Colberg said she is learning about herself as a leader, sailor and a person. "I've learned how to be more independent, self-reliant and to trust my own judgment," said Colberg.
Colberg added she is enjoying being part of the Gerald R. Ford crew as everyone is helpful and willing to work with each other, which makes for a cohesive, productive command.
The ship is scheduled to commission in Spring 2016.