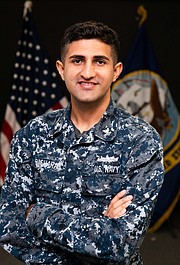 "My hometown was a very diverse area and that has allowed me to fit in better with everyone serving in the Navy." —Springfield native Kashif Basharat
A 2010 South County High School in Lorton graduate and Springfield native currently serves aboard one of the U.S. Navy's most valuable and capable warships, one that can carry 5,000 sailors and more than 70 warplanes anywhere in the world to defend America.
Navy Petty Officer 2nd Class Kashif Basharat is a mass communication specialist aboard the aircraft carrier USS George Washington, currently dry-docked in Newport News, Virginia.
A Navy mass communication specialist is responsible for capturing photos, writing new articles, and producing video products for the ship.
"I love capturing moments that have an impact on sailors," Basharat said.
Often described by senior defense officials and policy makers as "4.5 acres of sovereign American territory," aircraft carriers are the centerpiece of America's naval forces. In times of crisis, the first question leaders ask is: "Where are the carriers?" Navy officials state that the presence of an aircraft carrier has frequently deterred potential adversaries from striking against U.S. interests.
George Washington is presently undergoing a four-year refueling complex overhaul (RCOH) at Newport News Shipbuilding, a process that includes refueling the ship's nuclear reactors and modernizing more than 2,300 compartments and hundreds of systems. The carrier is expected to leave the shipyard in 2021 and return to Yokosuka, Japan, as the Navy's only forward-deployed aircraft carrier.
WHILE UNDERWAY, the ship carries more than 70 jets, helicopters, and other aircraft, all of which take off from and land on the carrier's 4.5-acre flight deck. Four powerful catapults launch aircraft off the bow of the ship. After lowering a tail hook that protrudes from the rear of the airframe, fixed-wing aircraft land by snagging a steel cable called an arresting wire.
George Washington is currently one of 11 aircraft carriers in the U.S. Navy. It is the sixth Nimitz-class carrier and the fourth Navy vessel named after the first president of the United States. Measuring nearly 1,100 feet from bow to stern on the flight deck, the ship is longer than three football fields. It is 257 feet wide, 244 feet high and weighs nearly 100,000 tons.
Basharat credits success in the Navy to many of the lessons learned in Springfield.
"Growing up I learned diversity," Basharat said. "My hometown was a very diverse area and that has allowed me to fit in better with everyone serving in the Navy.
"Our ship's motto is the Spirit of Freedom, and this motto is evidenced daily in the actions and character of our sailors," said Capt. Glenn Jamison, commanding officer of USS George Washington. "The work they are involved in today is difficult, but is vital to national security, to our maritime strategy, and to our ability to provide compassion and aid when and where needed. I am always impressed by the level of professionalism and expertise demonstrated by the men and women who serve aboard George Washington."
SAILORS' JOBS are highly varied aboard George Washington. The crew of approximately 2,800 sailors keeps all parts of the aircraft carrier running smoothly, including everything from launching and recovering aircraft to operating its nuclear propulsion plant. Another 2,000 sailors are assigned to the ship's embarked air wing, flying and maintaining aircraft aboard the ship.
"I enjoy being able to work in a division of diverse sailors," Basharat said.
Though there are many ways for sailors to earn distinction in their command, community, and career, Basharat is most proud of earning his surface warfare qualification device.
"I made it an obligation to get it in a short period of time as this was a short-term goal I set for myself, and I had a great sense of pride when I accomplished this goal," Basharat said.
As a member of one of the U.S. Navy's most relied upon assets, Basharat and other sailors know they are part of a legacy that will last beyond their lifetimes, one that will provide a critical component of the Navy the nation needs.
"Serving in the Navy means sacrificing my freedom so that my family members can rest easy," Basharat added.