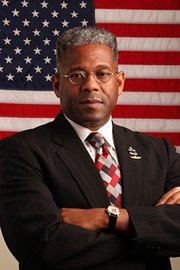 The Republican Women of Clifton (RWC) will host their gala event on Sept. 28 featuring Col. Allen West as the keynote speaker. The event will take place at the Stacy C. Sherwood Community Center, 3740 Old Lee Highway, City of Fairfax, and will begin at 6 p.m. Col. West's latest book, Guardian of the Republic, will be available for purchase, followed by a book signing. Angela Knight of the Washington National Opera will perform along with Butch Grant and the Crossfire Band. Culinary delights will be catered by Chocoberry Catering of Woodbridge, Va. Dress is formal to casual.
Col. West was born and raised in Atlanta, Ga. He is the third of four generations of military servicemen in his family. During his 22 year career in the U.S. Army, Lt. Col. West served in several combat zones. He received many honors including a Bronze Star, three Meritorious Service Medals, three Army Commendation Medals and a Valorous Unit Award. West has served in Congress, representing Florida's 22nd District.
Alice Butler-Short, President of the RWC, said, "We are thrilled Col. West will be joining us for the RWC's gala. The event promises to be an evening of thought-provoking discussion and fun."
Tickets are $55 and must be purchased before Sept. 15. Reserve yours at www.cliftongop.com.