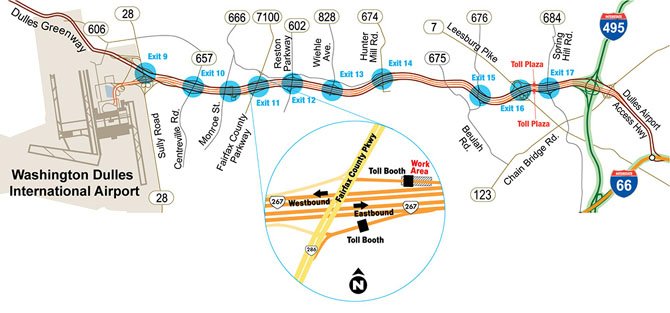 Nineteen exact change lanes on the Dulles Toll Road are going to be converted to E-ZPass lanes over the next year.
"It's an effort to ease traffic congestion on the Dulles Toll Road," said Metropolitan Washington Airports Authority spokesperson Chris Paolino.
He said there is already a 90 percent use of E-ZPasses for the lanes being converted. He said the move also addresses safety issues that occur when traffic stops unexpectedly for a person to throw coins in a basket.
"It allows smooth progression through the booths," he said. "There will always be a full service lane for people who want to pay with cash or a card, just to provide that extra option.
The conversion, which started Tuesday on the lanes near the westbound Fairfax County Parkway exit, will take about a year to make the change. Each lane will take two weeks to dig up the infrastructure under the road and create a new infrastructure. After each booth is completed, it will be watched carefully for the next two weeks to make sure it works correctly.
"We'll be working one lane at a time so that drivers have ample warning of which booth to avoid," said Paolino. "We encourage drivers to plan accordingly."
Hunter Mill Supervisor Cathy Hudgins represents the area that will be directly affected by the work.
"MWAA expects the new E-ZPass lanes will help reduce congestion around the plaza and exits of the Dulles Toll Road for our commuters," she said. "However, the conversion could limit the options and lengthen travel times for individuals that do not use the E-ZPass service."
For more information or to find out where construction is occurring, visit http://www.mwaa.com/tollroad/toll.htm.