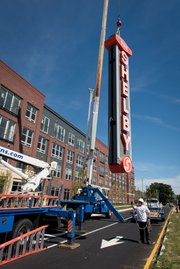 Though named for the innovative automotive designer and racer Carroll Shelby, the team behind the recently opened Shelby apartment building on North Kings Highway has made alternate forms of transportation a priority.
Not minding the irony, Insight Property Group Development Manager Rebecca Snyder said, "One of the visions is bold Americans who took a chance and created something extraordinary."
Insight and Bozzuto Management collaborated with Lee District Supervisor Jim McKay's office to get their own bus stop built, allowing tenants to take better advantage of The Shelby's nine-mile proximity to the Pentagon.
"They've been such supporters of ours," said Synder. "Every turn, any challenge with the process, permits — they've been right there with us. They're so passionate about this district. It's already wonderful; they want it to be even better."
Then there's a bicycle fix-it station on the premises, complete with compressed air for topping off tires, an electric car charging station and a transit display area in the building's Americana-chic lobby providing updates on bus and train arrival times.
And the Huntington Yellow Line Metro stop is less than half a mile away.
"Transit is such a big part of what we do," said Snyder, "really connecting customers to transit that exists."
Insight partnered with Bozzuto Management to create the 240-unit "community" defined by its ease of transit access, design and decor flair from local artists, and engagement with the surrounding area. Twenty-eight of the units are designated "affordable dwelling properties.
In the last four years developing the building, Insight spent "hundreds of hours" with residents in the vicinity of the site, listening to their thoughts on how the neighborhood could be enhanced. "I've never met a group of people that care more about their neighborhood," said Snyder.
The effort included integrating more than 100 original pieces of art from more than 40 local artists and craftsmen such as SwatchRoom, James Kerns and Carbon Industrial. "Beautiful pieces inspired by maps," Snyder said, "inspired by connectivity."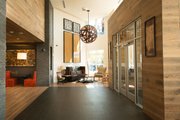 The Shelby opened Aug. 23 and accepted its first resident move-in on Sept. 1. Though "quite a few leases" are coming in, according to Snyder, so far, Insight and Bozzuto are those tenants' only neighbors. "We're kind of here all the time, she said, of the team's constant presence as the building gets up and running in earnest. "I guess they get to live with us."
Del. Scott Surovell is enthusiastic about The Shelby, and the type of "transit-oriented development" it represents. "It's a totally different style of building," he said. "You don't see apartments like that on Route 1. I'm hoping to see a lot more as we move forward."
Surovell referenced the Virginia Department of Rail and Public Transportation (DRPT) "Multimodal Alternatives Analysis" that began 14 months ago. According to the project overview, the study seeks to "address the need for improved connections and access for people who live, work and travel in the corridor."
The $2 million analysis project is set to wrap up soon, with a hearing on Oct. 9. "It's the most important study in 30 years," said Surovell. "We're trying to determine what the most appropriate form of transit is for next two decades, and appropriate land-use patterns. Do we extend the Yellow line? Rely on buses?"
George Mason University professor and transport economist Ken Button has more tempered optimism over The Shelby, and further transit-oriented projects that may result from the multimodal study.
"Most forecasts for transit use have been over optimistic," Button said. "It's more difficult than some think to get people using transit.
"People assume the whole transit behavior is determined by work trips," he said. "These days, they have multipurpose trips. They go shopping, take the kids to school. Transit doesn't usually fit all those requirements. We lead very flexible lives these days; you've already got very diverse land use."
Button emphasized he's not against alternative transit options — in fact quite the opposite — but acknowledged for the majority of people, it won't be their solution. Compared with what he estimates to be thousands of vehicles that pass by on Route 1 hourly, residents of the 240 units in The Shelby — that's if most choose not to drive — don't provide much of an immediate offset.
But more buildings like The Shelby wouldn't hurt, he said. What they offer in the short term is choice. "Drops in buckets aren't bad," said Button. "Choice is important for people. The real thing about modern society — free market — you have a choice."