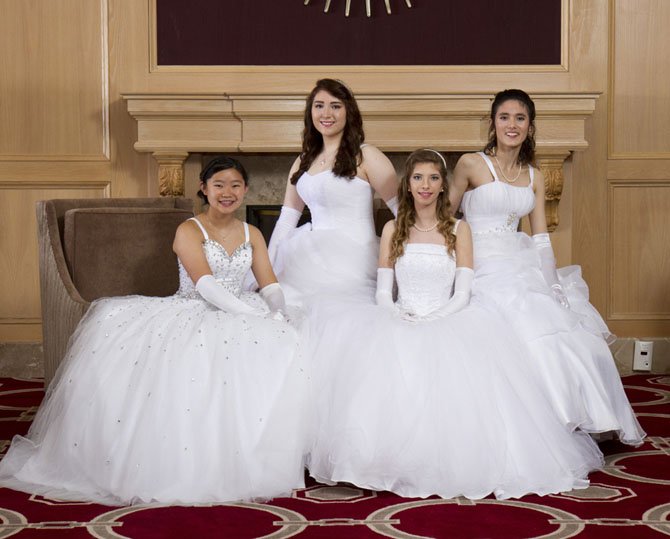 On July 19, 2014, the Old Dominion Cotillion ("ODC") held its Twenty-Third Annual Debutante Ball at Westfields Marriott in Chantilly. Family and friends who gathered for dinner and dancing celebrated the debut of four young women. The debutantes dressed in white ball gowns were formally presented and then escorted by cadets from Fishburne Military School in Waynesboro, Va. The school, founded in 1879, is the oldest continually operating military school in Virginia.
The ODC announces the debut of its 2014 debutantes: Miss Eryn Burr Cooper, daughter of Mr. and Mrs. Joshua J. Cooper of Oakton, who is a senior at Oakton High School. Miss Tatiana Mi-Hae Galli, daughter of Mr. Paolo Galli and Dr. Suzanne Kim Doud of Washington, D.C., who will be a senior at Brookwood School; Miss Anna Heekyung Moon, daughter of Ms. Jenet Dokhee Ahn of Centreville, a senior at Westfield High School; and Miss Leilani Marie Wolf, daughter of Mr. Christopher H. Wolf of Chantilly, and Ms. Grace Han Wolf and Mr. Michael Lamatrice of Herndon, who is a senior at Wakefield School.
The Old Dominion Cotillion is a women's organization that was established in 1991. It is an organization in which young women are educated in the social graces through enrichment, social and philanthropic activities to grow in confidence and poise. The ODC's social season begins with the annual fall invitational tea.
The ODC's new social season will commence with the annual Invitational Tea on Sunday, Sept. 28. If you would like to attend the tea or want more information about the ODC, please contact us at info@olddominioncotillion.org or visit the website at www.olddominioncotillion.org.