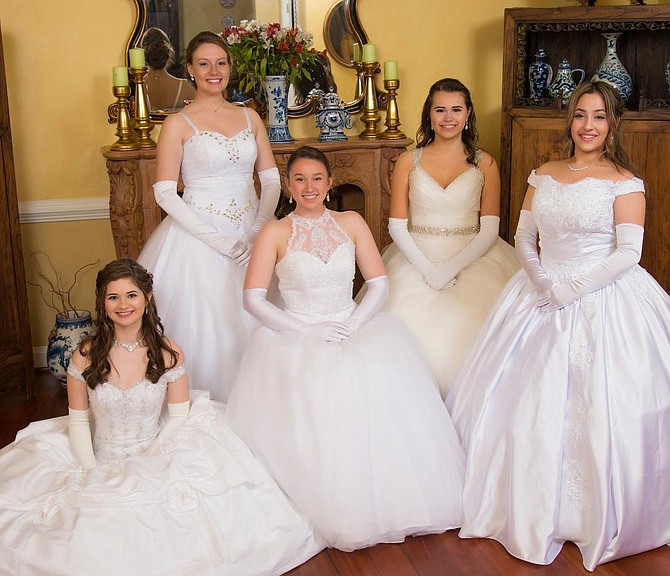 The Old Dominion Cotillion marked its 28th Anniversary on July 13 by celebrating the debut of five young women in the community. Since its inception, the Old Dominion Cotillion has focused on preparing young ladies for adulthood with grace, poise and a sense of social responsibility. The program culminates with a ball held at Westfields Marriott in Chantilly, which gives young ladies the opportunity to replace blue jeans with an elegant gown and truly celebrates a young woman's transition to a member of society.
The Board of Governors has announced the debut of the following young ladies: Miss Jacquelyn Nancy Olivera, daughter of Mr. and Mrs. Kevin Olivera of Ashburn; Miss Zoe Elena Patton, daughter of Ms. Lindene Patton of Great Falls; Miss Mariana Pava, daughter of Mr. and Mrs. Vicente Pava of Leesburg; Miss Abigail Nicole Silvasy, daughter of Mr. and Mrs. S. Scott Silvasy of Ashburn; and Miss Anna Florence Toloczko, daughter of Mr. and Mrs. Matthew Toloczko of Great Falls.
The Debutantes, dressed in white Cinderella-like ball gowns were presented by their fathers. After the formal presentation, the Debutantes, their escorts and guests danced the night away to music by Rendezvous.
This year's Assembly included two Pages, five Future Debutantes, two Post Debutante and three Post-Post Debutantes, along with active alumnae from classes dating back to 1992. In addition to learning social graces, the girls also participate in many philanthropic activities throughout the Social Season. The Old Dominion Cotillion's philanthropic mission is to provide experiences that encourage social awareness and compassion for the needs of the community. This year the membership collected coats and blankets for Mobile Hope, a regional organization supporting homeless teens and young adults, and expanded philanthropic reach by affiliating with The Crossings, a senior independent, assisted living and memory care facility in Herndon.
The Old Dominion Cotillion is a women's organization that was established in 1991. If interested in learning more about ODC or to be placed on the invitation list for the Invitational Tea, contact Lynn Williams, ODC Director, at williamslynnd@gmail.com.
For more information, visit the website at http://www.olddominioncotillion.org or the Old Dominion Cotillion Facebook page, www.facebook.com/OldDominionCotillion.